Theme Park Bits: First Volcano Bay Details Revealed, Soarin' Gets An Upgrade, And New Footage From Shanghai Disneyland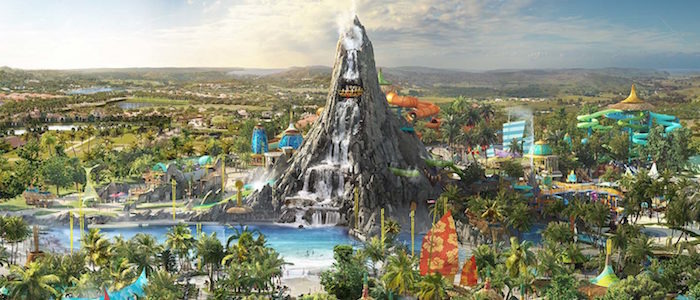 In this edition of Theme Park Bits:
Universal Studios Florida reveals the first official details about their new Volcano Bay waterpark.
Universal Studios Hollywood is making room for new theme park attractions.
Disney's California Adventure is now offering special packages for their Frozen show.
The original Soarin' has been officially replaced by Soarin' Around the World.
New footage from Shanghai Disneyland has arrived online.
Universal Studios Florida will never dethrone Walt Disney World as the king of the central Florida tourism market, but its goal to be a continuously aggressive and ambitious runner-up continues to go...swimmingly. Pardon the pun, but Universal's new Volcano Bay waterpark does look incredibly impressive, both in terms of delivering an exciting thematic experience and offering up a bunch of cool rides and attractions. The video above is the first official tease of the upcoming park and we can only hope that the final version is lovely as what this tease promises us. Here's Universal's official description of the park:
Water is Life. Life is Joy. That is the mantra by which the fabled Waturi islanders have lived on their Pacific isle for centuries. And now you can live the Waturi way at Universal's Volcano Bay, an all-new, adventure-drenched water theme park like no other, filled with both thrills and relaxing indulgence. Here, there's no standing in long lines. No wrestling with tubes. No waiting for the fun to begin. Which means you spend more time drifting leisurely down a winding river, plummeting down a tropical volcano, catapulting into pools of blue water, and reconnecting with your family. All just steps away from our other theme parks, Universal's Islands of Adventure and Universal Studios Florida, five on-site themed resort hotels, and Universal CityWalk dining, shopping and entertainment.
The Universal Orlando blog offers a ton of new information, but I found the emphasis on creating a hassle-free waterpark experience to be the most interesting. After all, even world-class waterparks can be a pain in the butt to navigate and the lines are long and inner tubes can get really heavy. I'm very, very curious how Universal plans to live up to this promise:
One of our first goals was to eliminate hassles for guests so they can focus on the fun. So we found a way to get rid of long lines. We made it so you don't have to carry your tube. We spread amenities like dining throughout the park, so you don't have to hike up to the front of the park for a bite to eat. And we brought the mindset of designing a world-class resort to create a water paradise.
From there, the blog goes on to describe the attractions that will be featured in each of Volcano Bay's four themed areas.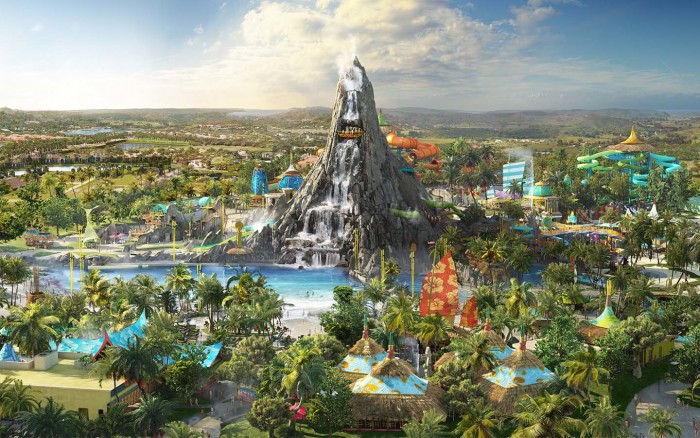 First up is Krakatau, the 200-foot volcano at the center of the park that will be home to four attractions, including one that is still top secret:
Three distinctive body slides are found at the rear of the volcano, and each starts off with surprise doors that drop out from beneath you:
Ko'okiri Body Plunge: A racing, 70-degree drop that will plummet 125-feet through the center of Krakatau. It will be the world's first slide to travel through a pool filled with guests.
Kala and Ta Nui Serpentine Body Slides: Two intertwining slides where you'll fall freely along 124 twisting feet.
Punga Racers: A high-speed race through four different enclosed slides featuring manta-shaped mats.
Secret Attraction: I can't talk about this one yet, but it'll be like nothing else in the park.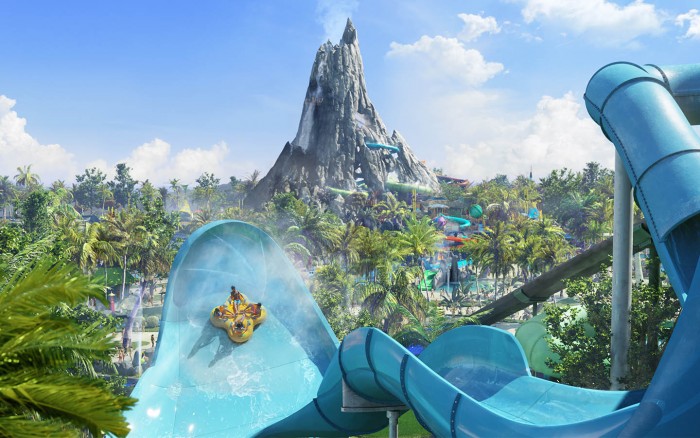 And then there's the Wave village, which offers more relaxing and laid-back experiences:
Waturi Beach: A sparkling, multi-directional wave pool where you can swim, relax on the sand or indulge in private, one- or two-story cabanas.
The Reef: An adjacent leisure pool with calmer waters and exciting views of riders speeding through the Ko'okiri Body Plunge.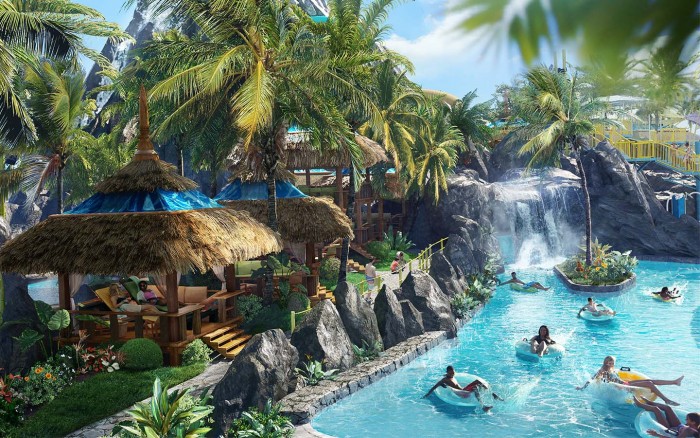 River Village will be home to attractions for children and the entire family:
Kopiko Wai Winding River: A gentle, winding river that passes through the volcano's hidden caves, featuring spontaneous water effects and a journey through the cave of starlight.
Tot Tiki Reef: A whimsical toddler play area with spraying Maori fountains, slides and a kid-size volcano.
Runamukka Reef: A three-story water playground inspired by the coral reef overflowing with twisting slides, sprinklers and more.
Honu: An adventurous, multi-passenger raft ride that will soar across a dual wall.
Ika Moana: A twisting, multi-passenger raft ride that will glide across bubbling geysers.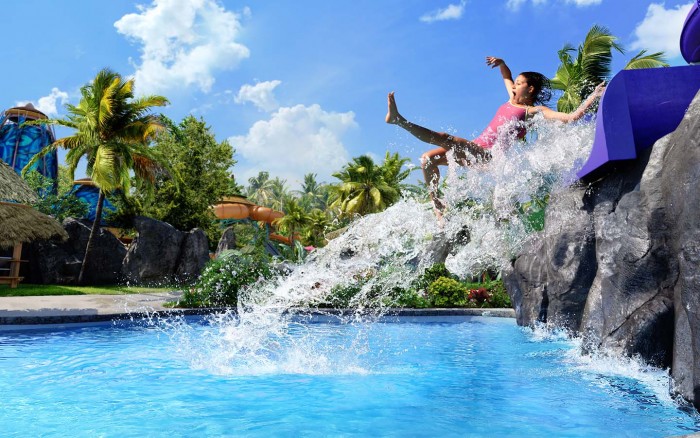 And finally, Rainforest Village will cater to people looking for something a bit more exciting and visceral:
Maku: North America's first "saucer ride", sending multi-passenger rafts speeding around three saucer-shaped curves.
Puihi: A breath-taking multi-passenger raft ride that will plunge you into darkness before bursting into a funnel and launching into a zero-gravity drop.
Ohyah and Ohno Drop Slides: Two twisting, adrenaline-pumping slides that launch you four- or six-feet above the water at the end.
TeAwa The Fearless River: An action-packed, racing torrent river where you'll have to hang tight in your inner tube amidst roaring, whitewater rapids.
Taniwha Tubes: Four unique Easter Island-inspired slides with rafts for single or double riders.
Puka Uli Lagoon: A tranquil pool where you can swim and relax.
There is no official opening date for Volcano Bay yet, but it is expected to open sometime in 2017.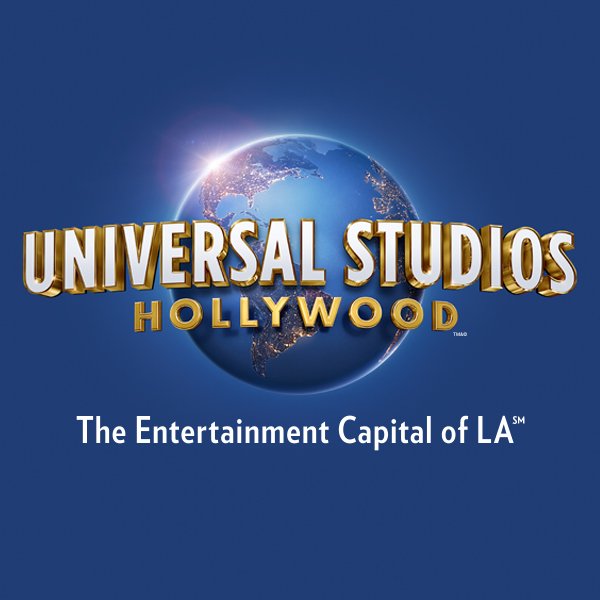 While the East Coast park is getting a waterpark, Universal Studios Hollywood is also making big plans. Universal has announced a new five-year plan that will see several of their soundstages demolished to make room for additional theme park expansions (unlike the Florida Park, Universal Hollywood is still part of a fully functioning movie studio). A new complex consisting of ten new soundstages will be constructed elsewhere on property. The plan also involves expanding basic services and doubling down on keeping their film productions in California.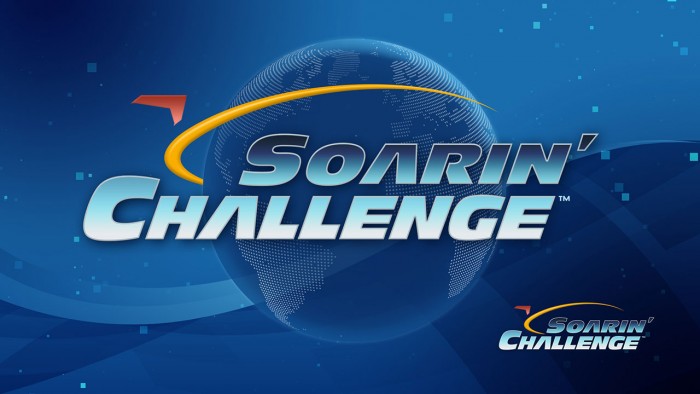 Soarin' was always right at home in Disney's California Adventure theme park, where a simulated flight over various West Coast landmarks made thematic sense. However, it wasn't a particularly clean fit for Florida's Epcot park (which emphasizes international cooperation) or Disneyland Shanghai (where the locals couldn't care less about flying over California). As of a few days ago, vanilla Soarin' was official retired in the American parks, replaced with the new version of the attraction that opened in China: Soarin' Around the World. As the name implies, this new version takes riders over various locations around the world, including the Great Wall of China, Sydney Harbor, and the Matterhorn. The Disney Parks blog also detailed a new mobile game to make waiting in line easier:
In addition to the new attraction experience, the attraction at Epcot also added a third theater and reimagined its queue to feature a new game called "Soarin' Challenge" that guests can play via smartphone while they wait. This complimentary travel trivia game allows guests to join hundreds of other players to answer questions on geography, cuisine, languages and more. Guests can also unlock passport stamps for their digital collection and aim to up their personal score on the leaderboard. Don't have a mobile device? No problem – look to one of the in-queue displays to participate.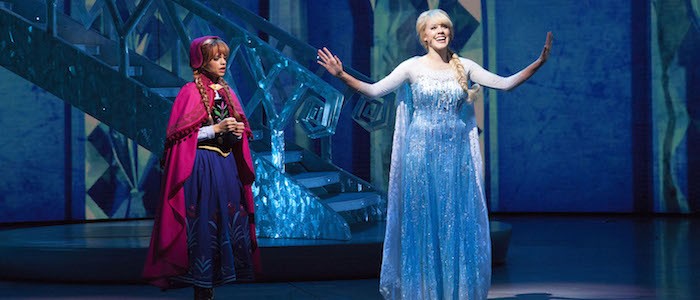 Speaking of new stuff being revealed by the Disney Parks blog, Disneyland has announced a trio of new packages available for visitors who want to take in the new (and instantly, massively popular) Frozen: Live at the Hyperion stage show. For the cost of an arm and a leg (or your first born child), you can you can expand the experience of watching the show in one of three ways. First up is the pre-show package:
The Frozen Pre-Show Package lets you chill with family and friends while enjoying refreshments, photo opportunities and more at a festive, "Frozen"-themed celebration before the live show. This one-of-a-kind gathering commences inside Stage 17, transformed into a castle courtyard in the wintry world of Arendelle with "Frozen" delights sprinkled all around, including a shave ice treat for you to enjoy. When the magical reception winds down, you'll be whisked off to the nearby Hyperion Theater and land in your priority seats.
If you want to eat before the show, this lunch package will be your speed:
The Frozen Pre-Show Plus Lunch Package includes the pre-show experience and priority seating, plus a melt-in-your mouth dining experience at Carthay Circle Restaurant. You can savor a three-course meal that includes your choice of four stunning main course dishes. There's also a special kids menu, but everyone big and small should save room for a sweet "Frozen"-inspired dessert.
However, the most interesting of the bunch is the behind-the-scenes package, which lets you go backstage after the show:
And for the ultimate viewing experience, go for the Frozen Signature Dining & Behind-The-Scenes Package. This is an incredible offering custom designed for the biggest "Frozen" fans, which includes not only the pre-show celebration and priority seating, but also an exclusive behind-the-scenes experience at the Hyperion Theater following the performance. You'll then cap off the experience with an elegant four-course dinner at Carthay Circle Restaurant.
Now that Disneyland Shanghai has been officially open for over a week, high quality footage from the park has begun to arrive online, giving us out best look yet at Disney's ambitious new endeavor. Even if you've already seen footage from the jaw-dropping new Pirates of the Caribbean ride, the new (and much clearer) video embed above is worth your time. The videos below offer a great look at corners of the park that have yet to receive much YouTube love.