'Free State Of Jones' Preview: Matthew McConaughey Goes To War In Five-Minute Clip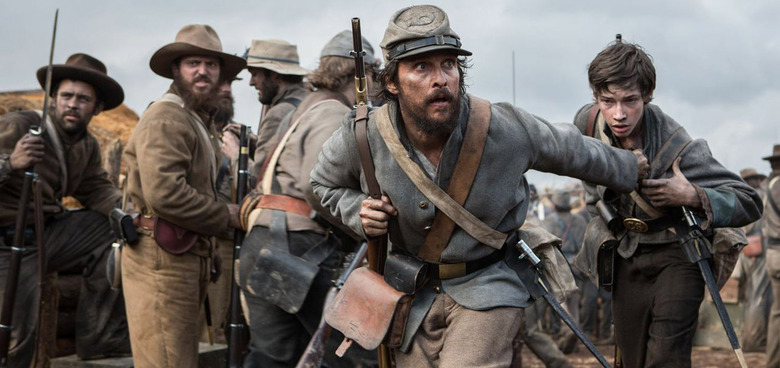 It's funny to think about just how far Matthew McConaughey has come in the past few years. As recently as 2010, he was better known for his tabloid coverage than or his acting career, which had largely devolved into dumb romcoms and dumber action flicks. But things started to turn around in 2011, with the triple-punch of The Lincoln Lawyer, Bernie, and Killer Joe. These days, he's got an Oscar on his mantel and has become a staple of serious prestige dramas.
His latest in that genre is Free State of Jones, director Gary Ross' follow-up to The Hunger Games. McConaughey plays real-life figure Newton Knight, a Southern farmer who rebelled against the Confederacy and tried to establish a mixed-race community in Mississippi. But before he gets there, he's a reluctant participant in the Civil War, tasked with repairing men broken by battle. STX Entertainment has just released a five-minute Free State of Jones preview which reveals a major turning point in Knight's life, and you can watch it after the jump. 
The Free State of Jones preview is a scene which comes early in the film, when Knight is still out on the Civil War battlefield. The young soldier he's trying to save is played by Jacob Lofland, who co-starred with McConaughey in Mud. Ross doesn't try to downplay the brutality of war. Even healthy men have haunted looks on their faces. Corpses are haphazardly strewn about, enemies lurk in unexpected corners, and the medical center is full of men suffering from grotesque and gory injuries.
Reviews for Free State of Jones have been mixed. Variety scathingly describes it as "a tale of racial liberation and heroic bloodshed that is designed, at almost every turn, to lift us up to that special place where we can all feel moved by what good liberals we are," but The Charlotte Observer calls McConaughey's performance "one of his best." A frequent complaint is that the film feels like "a way-too-long history lesson," as EW puts it, but the history does look interesting — Smithsonian has a deep dive on the true story of the Free State of Jones, if that sounds up your alley.
Free State of Jones is in theaters this weekend. Gugu Mbatha-Raw, Mahershala Ali, Keri Russell, Christopher Berry, and Sean Bridgers also star.
Written and directed by four-time Oscar nominee Gary Ross (THE HUNGER GAMES, SEABISCUIT, PLEASANTVILLE), and starring Oscar winner Matthew McConaughey. FREE STATE OF JONES is an epic action-drama set during the Civil War, and tells the story of defiant Southern farmer, Newt Knight, and his extraordinary armed rebellion against the Confederacy.
Banding together with other small farmers and local slaves, Knight launched an uprising that led Jones County, Mississippi to secede from the Confederacy, creating a Free State of Jones.
Knight continued his struggle into Reconstruction, distinguishing him as a compelling, if controversial, figure of defiance long beyond the War.