'Indiana Jones 5' Won't Be The Last One; George Lucas Still Executive Producing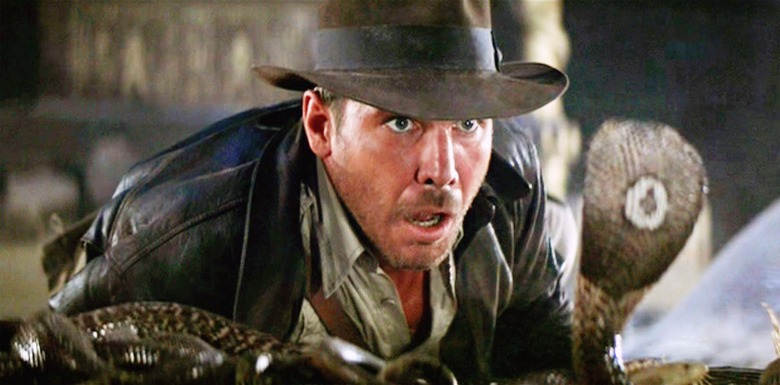 In news that should surprise absolutely no one, Disney has no plans to end the Indiana Jones franchise after the upcoming fifth film. They may, however, have plans to reboot it. CEO Bob Iger says while we shouldn't expect a Star Wars-style Indiana Jones universe, the series might head in a new "direction."
But we're getting ahead of ourselves here. At the moment, Disney is still developing Indiana Jones 5. The studio has already announced that Steven Spielberg will be back to direct, with Harrison Ford starring and John Williams scoring. Now we've learned that George Lucas will be back as well, serving as an executive producer. 
The Bearded Trio caught Spielberg's latest update on Indiana Jones 5 during a press event for The BFG. "George is going to be an executive producer on it with me," Spielberg said of the swashbuckling archaeologist's next daring adventure. "I would never make an Indiana Jones film without George Lucas. That'd be insane."
Before you start getting panicked flashbacks to Indiana Jones and the Kingdom of the Crystal Skull, it's worth keeping in mind that an executive producer credit doesn't necessarily mean Lucas will have a lot of creative input. We've heard before that Lucas would not be involved with the story for Indiana Jones 5, and that may still be the case.
What we can say is that Indiana Jones 5 seems to be in pretty good hands overall. Frank Marshall and Kathleen Kennedy (who knows a thing or two about reviving long-dormant movie franchises) are producing, and David Koepp (Jurassic Park) is writing the script. And while we have very few details about the plot of the new film, we can tell you how it'll end — or rather, how it won't end. Spielberg has promised he won't kill off Indiana Jones in this one.
And now we also know there will be more Indiana Jones pictures to come. In a conversation with The Hollywood Reporter, Iger touched upon the future of Indiana Jones. Asked whether it might become a full-fledged "universe," like Lucasfilm's other signature property, Iger responded, "Not like Star Wars, no. But we hope ... right now, we're focused on a reboot, or a continuum and then a reboot of some sort."
That's pretty vague, and things didn't get any clearer as Iger kept talking. "Well, we'll bring [Harrison Ford] back, then we have to figure out what comes next. That's what I mean. It's not really a reboot, it's a boot — a reboot. I don't know," he continued. "We [got] Harrison Ford as Indiana Jones in the film. But then what's the direction? I've had discussions about what the direction is, [but] I don't want to get into it."
Marshall has insisted that Indiana Jones isn't going to "do the Bond thing" and simply cast a new character as Indy. But that doesn't preclude the possibility of casting a younger Indy for a prequel, or passing on the torch to a different character. While Iger won't confirm it outright, it sounds like the tentative plan is to follow Indiana Jones 5 with a sequel that doubles as a soft reboot — a "requel" or "legacyquel," a la Creed.
Again, no surprise there. Spielberg has convincingly argued that at 73, Ford is not too old to play Indy. But he probably is too old to lead an action franchise that Disney surely hopes will keep going for years to come, creating younger new fans while bringing back older ones. Again, though, first things first. For now, let's hope Indiana Jones 5 is good enough to make us want to see an Indiana Jones 6 and beyond.