'Kong: Skull Island' Is Giving That Big Ape A Size Upgrade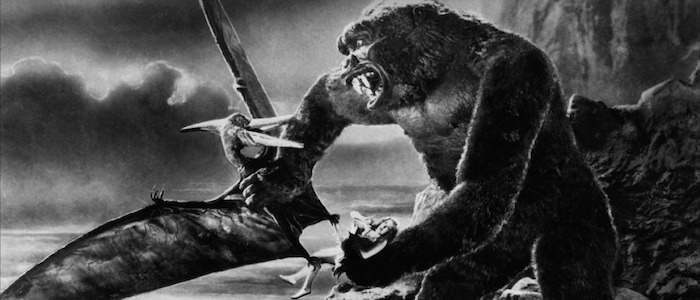 When it was announced that Warner Bros. was building a new cinematic universe around cinema's most iconic giant monsters and that the world's most famous giant ape would battle the world's most famous prehistoric radioactive lizard in 2020, there was a fair amount of conversation about the logistics of that particular fight. After all, Godzilla vs. King Kong sounds fine on paper until you get to the finer details. You know, like Godzilla measuring 300 feet and King Kong traditionally measuring about 50 feet.
However, it turns out that we're not getting a traditional King Kong in the upcoming Kong: Skull Island, which will introduce a new version of the mighty ape to theaters. He's going to be a bit bigger than usual.
This snippet of of news arrives on our doorstep courtesy of The Hollywood Reporter, who were present for a presentation on upcoming Warner Bros. films at CineEurope. Footage from The Legend of Tarzan, Suicide Squad, Fantastic Beasts and Where to Find Them, Sully, The Accountant, and other films was screened, but it's this quote from Kong: Skull Island director Jordan Vogt-Roberts that is actually the most intriguing revelation:
This is going to be the biggest Kong there's ever been. Not 10 foot or 30 foot, but a 100-foot ape.
A 100-foot Kong stands a much better chance of surviving an encounter with the King of the Monsters than a 50-foot Kong, although Godzilla will still have a definite height advantage. However, a smaller Kong means a more agile Kong, so it's easy to imagine him using his size to his advantage. The best versions of King Kong have always treated him as a thinking man's monster, a creature with genuine soul and fire behind his eyes. He may not be able to overpower Godzilla, but he could out-wit him.
Of course, that's all speculation on my part. With Kong: Skull Island taking place in the '70s, the set-in-modern-day Godzilla vs. King Kong could invent any number of ways to even the odds between these two in the space between films. Maybe they'll expose Kong to a bunch of radiation. Or give him a growth spurt. Pick your poison.
Kong: Skull Island is set to open on March 10, 2017. In addition to the giant ape, the film stars Tom Hiddleston, Brie Larson, John C. Reilly, Samuel L. Jackson, Toby Kebbell, Tom Wilkinson, Jason Mitchell, and Shea Whigam. It will be followed by Godzilla 2 on March 22, 2019 before the two beasts finally clash with Godzilla vs. King Kong, which is set for May 29, 2020.