'Jack Reacher: Never Go Back' Trailer: Tom Cruise Pummels His Way To Justice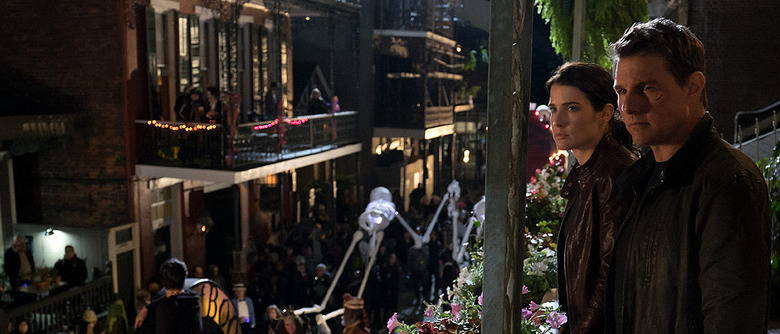 Last week we got our first look at Jack Reacher: Never Go Back thanks to Entertainment Tonight. Unfortunately, the video was periodically interrupted by star Cobie Smulders as a talking head. (Don't blame her, it's the Entertainment Tonight way.) This week we've got the first real, full Jack Reacher: Never Go Back trailer, now with more context, more action, and fewer pointless interjections.
Tom Cruise returns as the stoic vigilante hero, who visits Virginia to meet with the head of his former unit (Smulders) and learns she's been charged with espionage. Then he discovers he's a wanted man, too. Oh, and that he might have a daughter he never knew about. Lots of drama for our guy this time around.
Watch the first Jack Reacher: Never Go Back trailer below. 
Although Jack Reacher is typically a lone wolf type, between his new friend and his possible new daughter, it sounds like his social calendar is looking a little fuller these days. Jack Reacher might not be as much of an ensemble piece as the Mission: Impossible movies, but Cruise does well playing with others. His co-stars in the sequel include Smulders, Aldis Hodge, Holt McCallany, Patrick Heusinger, and Danika Yarosh (who's probably the "possible daughter" we mentioned).
New buddies or no, it looks like Jack Reacher's method of solving problems is still the same: punching and shooting his way out of any tight situation while we in the audience cheer. More than a few of those boldface names above will surely end up regretting the day they ever tried to cross Jack Reacher.
Jack Reacher: Never Go Back hits theaters October 21. Edward Zwick directed, replacing Chris McQuarrie from the first film.
Jack Reacher: Never Go Back follows the title character as he returns to Virginia to meet the head of his former unit. But she's missing, he's being charged with a crime committed nearly 20 years ago, and he may even have a daughter. Making things right will lead him on a cross-country chase to uncover the truth – and maybe even a family.