Paul Feig's 'Spy' Sequel Will Include An Even Less Self-Aware Rick Ford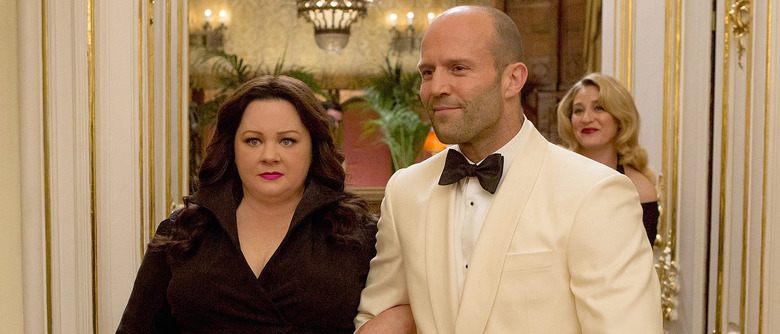 Before Spy was released into theaters, writer-director Paul Feig already knew he wanted to make a sequel, and what it would be about. The director had hoped to turn The Heat into a franchise–something Sandra Bullock wasn't onboard with–but it looks like he may get his wish with a Spy 2. The director of this summer's Ghostbusters reboot is adamant about making the sequel, which would involve more of Rick Ford (Jason Statham), the one and only man who can walk through fire, waterski blindfolded, and take up piano at a late age.
Below, learn more about the Spy sequel.
Paul Feig started writing the script for Spy 2 prior to the first film's successful run at the box-office last year. The comedy, deservedly so, ended up being a critical and box-office hit. The film didn't end with any blatant sequel flats, but it left the door open for future installments. With Susan Cooper (Melissa McCarthy) now a full-fledged field agent, there are plenty of opportunities for sequels.
Speaking with Empire, Feig told the outlet he still plans on making a Spy 2:
That's another world that I don't want to walk away from. It's the first thing I did that I set up to be a possible franchise and Melissa is dying to do it. I have a story for it, and a funny idea that will kick it off that involves Statham.
If McCarthy and Rose Byrne weren't so well-paired–and if Peter Serafinowicz also wasn't present–then Statham would've stolen the show as Rick Ford, the agent who fancies patting himself on the back as he consistently fails to save the day. Feig went on to say we'll see even more of Ford's arrogance and bravura in the Spy sequel:
Susan Cooper is one of my favorite characters I've ever come up with, but Rick Ford is possibly the one I'll take to the grave with me. Will he get any more self-aware in the sequel? No, god no. He'll get less self-aware.
The last we saw of Rick Ford and Susan Cooper was of them in bed together. Ford, of course, assured a slightly mortified Cooper that it was fantastic. I imagine Feig will find some fun ways to play off of that turn of events with the sequel. The writer-director didn't comment on when audiences might see a Spy 2.
Feig's next film, Ghostbusters, opens in theaters July 15th.