'Doctor Strange' And 'Guardians Of The Galaxy Vol. 2' Synopses Tease Old Foes, New Allies, And Everything In Between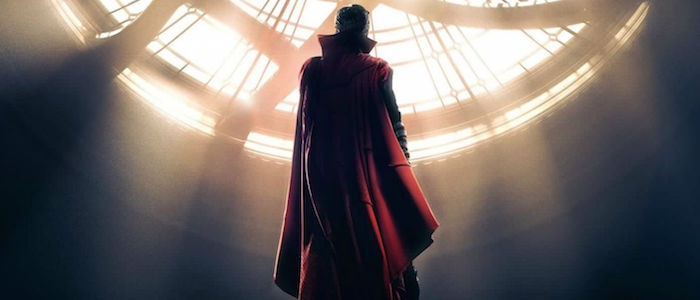 Marvel Studios has built up enough goodwill at this point that they could probably get away with just releasing a title and release date and still pack their fair share of theaters. But if you simply must know what Doctor Strange and Guardians of the Galaxy Vol. 2 are about, the official synopsis for each film has been unveiled and they are glorious in their vagueness.
Let's go in chronological order here. First up is Doctor Strange, which is directed by Scott Derrickson and stars Benedict Cumberbatch as Marvel's master of mysticism, Dr. Stephen Strange. This paragraph doesn't tell us much that already didn't know (it's a basic summary of his origin story), but there's enough emphasis on his actual super powers and role in the Marvel Universe that we can hope the movie gets down proper Sorcerer Supreme-ing quickly. Here you go:
Marvel's Doctor Strange follows the story of the talented neurosurgeon Doctor Stephen Strange who, after a tragic car accident, must put ego aside and learn the secrets of a hidden world of mysticism and alternate dimensions. Based in New York City's Greenwich Village, Doctor Strange must act as an intermediary between the real world and what lies beyond, utilizing a vast array of metaphysical abilities and artifacts to protect the Marvel cinematic universe.
Since we've already met the cast of Guardians of the Galaxy, the synopsis for the sequel can afford to be far more vague. Everyone from the first movie, including writer/director James Gunn, is back for round two. The only real plot revelation confirms what we've expected for some time now – the story will somehow focus on Peter Quill's parentage and mysterious (and extra-terrestrial) father. The synopsis also teases old foes becoming new allies and "fan-favorite characters" from "classic comics" popping up, so place your bets right now. Anyway, it's also telling that the synopsis officially mentions the film's soundtrack. Considering how huge the first film's music turned out to be, it's a smart move. Anyway:
Set to the backdrop of 'Awesome Mixtape #2,' Marvel's Guardians of the Galaxy Vol. 2 continues the team's adventures as they traverse the outer reaches of the cosmos. The Guardians must fight to keep their newfound family together as they unravel the mysteries of Peter Quill's true parentage. Old foes become new allies and fan-favorite characters from the classic comics will come to our heroes' aid as the Marvel cinematic universe continues to expand.
Doctor Strange is set to open in theaters on November 4, 2016. Guardians of the Galaxy Vol. 2 will arrive six months later on May 5, 2017.