Eli Roth Is The Latest Director To Grant Bruce Willis' 'Death Wish'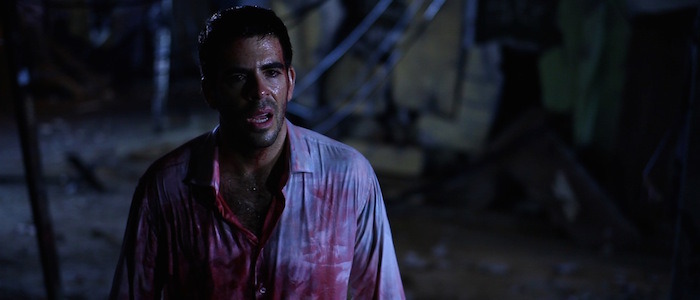 It's been a rough road for Paramount's upcoming remake of Death Wish, which been the subject of a few behind-the-scenes creative clashes. The project was first announced in 2012 with director Joe Carnahan at the helm, but Carnahan departed a year later over those dreaded "creative differences," which may or may have involved the director wanting Frank Grillo in the lead role and the studio insisting on Bruce Willis. Miss Bala director Gerardo Naranjo was the next to take the job, but he quietly stepped away. Things finally seemed to be on track just a few months ago when Big Bad Wolves directors Navot Papushado and Aharon Keshales signed on, but they departed not longer after, citing creative differences over the Bruce Willis-approved screenplay.
But maybe fourth time is the charm, because Eli Roth is the next one up to bat.
Deadline reports this news and they add that this is part of an active attempt by Roth to break into more traditional Hollywood work after building his career with nasty horror films like Cabin Fever and Hostel. It's easy to imagine him looking at the trail blazed by James Wan, who cut his teeth with Saw and Insidious before nabbing Furious 7 and Aquaman, and wanting that kind of trajectory. This news arrives after Roth's thriller Knock Knock came and went without making much of a peep beyond his already initiated fans. An action movie starring a legit movie star may the thing to shake him up.
Knowing his affinity for trash film and filmmakers, it's easy to imagine Roth going all-out and making something gloriously offensive and deranged and socially irresponsible. In other words, it's easy to imagine him remaking Death Wish 3. Roth has had his hits and misses, but he can generally be trusted to create something interesting and memorable, even if the whole package doesn't come together. However, the biggest roadblock here may be Willis, whose filmography has grown increasingly dire with each passing year. With the occasional exception (Looper, anyone?), Willis hasn't been taking too many chances recently. It would be a shame to waste Roth in just another standard Bruce Willis movie.
The surprising silver lining here is that the latest draft of the Death Wish screenplay was written by Scott Alexander and Larry Karaszewski, the more-than-capable scribes behind movies like Ed Wood and television shows like American Crime Story: The People V. O.J. Simpson.
There are no official dates set for Death Wish yet, so let's wait a few weeks and see if those creative differences strike again.