'The Fundamentals Of Caring' Trailer: Paul Rudd Gives Craig Roberts A Bite Of The James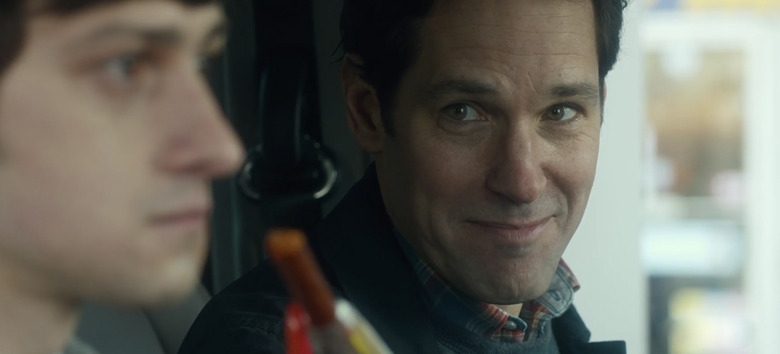 There's not much in the vein of comedy coming to theaters this weekend, with Independence Day: Resurgence, Free State of Jones and The Shallows all making their box office debuts. But if you're looking for laughs and you don't feel the need to see Central Intelligence (though it's a solid comedy thanks to Dwayne Johnson and Kevin Hart's chemistry), then Netflix has you covered.
This Friday, Netflix brings the Sundance indie The Fundamentals of Caring to their streaming service, giving you another dose of Paul Rudd this summer. And this time he's joined by Neighbors and Submarine star Craig Roberts for a funny, touching and charming road trip that's absolutely worth your time.
Watch the new Fundamentals of Caring trailer after the jump.
In the movie, Craig Roberts plays a young man with muscular dystrophy, and Paul Rudd plays his new caretaker. Roberts needs a bit of a push to come out of his shell, and Rudd needs something to feel like his life has some purpose again so he can finally get over his divorce. It sounds like an indie cliché for sure, but it's the presence of Rudd and Roberts and their fantastic chemistry that makes it work much better than it otherwise might.
Also, if you've been waiting for Selena Gomez to distance herself even further from the Disney Channel image that started her career, this movie has one of those performances that does that perfectly. She and Roberts together are vulgar, sarcastic and downright funny.
If you want to see more from The Fundamentals of Caring, watch the first trailer for the Sundance selected film right here. Otherwise, you can read about how it's worth checking out on Netflix this coming weekend by reading my full review from Sundance earlier this year.
Ben is a retired writer who becomes a caregiver after suffering a personal tragedy. After 6 weeks of training, Ben meets his first client, Trevor, a foul-mouthed 18-year-old with muscular dystrophy. One paralyzed emotionally, one paralyzed physically, Ben and Trevor take an impromptu road trip to all the places Trevor has become obsessed with while watching the local news, including their holy grail: the World's Deepest Pit. Along the way, they pick up a sassy runaway and a mother-to-be who help test the pair's survival skills outside of their calculated existence as they come to understand the importance of hope and true friendship.
The Fundamentals of Caring hits Netflix on June 24.