Melissa McCarthy Is Ready To Answer The Call For 'Ghostbusters' Sequels At Least 102 Times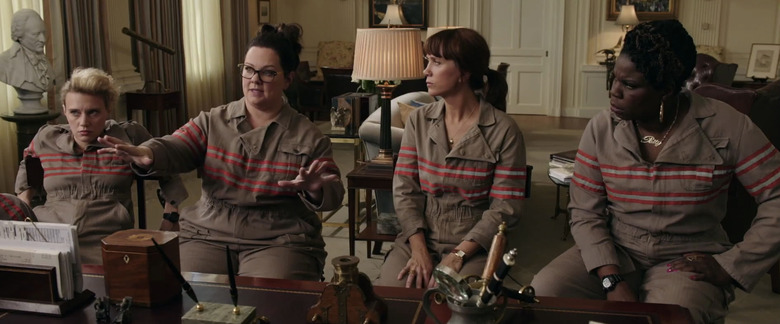 The reboot of Ghostbusters is just under a month away, and Sony Pictures will see if they have a viable new franchise on their hands. Hopefully even the naysayers will give this movie a chance simply so they can have an opinion substantiated by seeing the movie instead of just bashing it based on the trailers. If the box office numbers turn out well, we'll obviously be looking at Ghostbusters sequels, and Melissa McCarthy is ready to answer the call as many times as the phone rings.
Find out more about the possibility of Ghostbusters sequels after the jump.
Speaking to The Hollywood Reporter, McCarthy was asked if she was ready to come back for sequels, and without missing a beat, she said, "I would do 102 more of these. I will literally show up for [director] Paul Feig and these women no matter what. I'll show up for plays in a backyard." If the audience doesn't show up for the Ghostbusters reboot, that may be the only place Ghostbusters sequels would happen, but we have to wait a month to see how it does.
In addition, Leslie Jones is ready to come back as soon as possible as well, saying, "Well, shit, as many as they do, I'm there." Since this could be a big turning point in Jones' career, whether the film does well or not, it's no surprise that she would want to make more. Presumably Kristen Wiig and Kate McKinnon are all for coming back as well.
As for director Paul Feig, he's not contracted for any sequels just yet, but that doesn't mean he doesn't want to keep playing in the world that he's rebooted. Feig says, "It's such a fun world, the sky is the limit. But I think everyone wants to see how this one is going to go first."
Undoubtedly it will be the box office and critical reception that determines whether the movie actually gets any sequels, though the former is much more important to the studio than the latter. We already know there have been talks behind the scenes about a spin-off featuring a new male team of Ghostbsuters that might include Chris Pratt and Channing Tatum, though we recently learned Anthony & Joe Russo aren't attached to the project anymore. The plan was that they would eventually team up with the female team for a crossover movie, but we don't know if that's still something being discussed. Paul Feig also recently mentioned the possibility of some kind of multiverse in the works, so we'll see what plans move forward after Ghostbsuters arrives on July 15.