'Nine Lives' Clip: Christopher Walken Is Your Friendly Neighborhood Cat Whisperer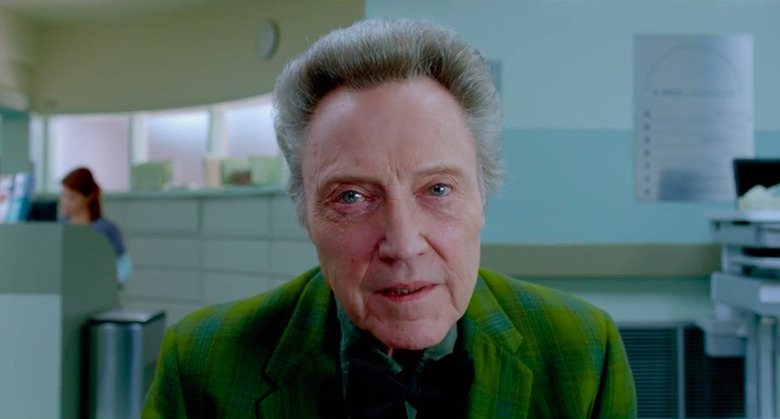 Barry Sonnenfeld has made some fine entertainment over the course of his career. In the 1990s, Sonnenfeld had a terrific run, directing Get Shorty, Men in Black, and The Addams Family movies. Before turning towards directing, as a cinematographer, he shot Raising Arizona, Miller's Crossing, Big, Misery, and Throw Momma from the Train. Since working on all of those memorable films, he's directed some pictures–Wild Wild West, Men in Black II, and Big Trouble–that sorely missed the mark. Sonnenfeld's next film, Nine Lives, about a man (Kevin Spacey) that gets turned into a cat, doesn't look as appealing as his earlier efforts, but at the very least, it has Christopher Walken playing a cat whisper.
Below, watch a Nine Lives clip.
In the film, Walken plays a role that's not too dissimilar to his character in Click: an eccentric, mysterious figure that screws with the life of a man not fully appreciating his family. This time, Walken's character doesn't work at a Bed Bath & Beyond, he owns a cat store. In Nine Lives, with the help of his cats (watch the trailer for that explanation), Walken's character, Felix Grant, transforms Kevin Spacey's character into Mr. Fuzzypants.
Here is the Nine Lives clip:
This clip is pretty much what we expect from a talking cat movie. Sonnenfeld's film is PG, so it is aimed towards children, but are kids going to be interested in a story about a rich businessman being turned into a cat, just so that he can get back in touch with his humanity and reconnect with his family? Probably not, but there will also be plenty of CG-heavy hijinks involving the feline, as promised by the trailer, which might be enough for some kids.
By the way, Nine Lives was shot by cinematographer Karl Walter Lindenlaub, the director of photography of Paul Verhoeven's Black Book. He's worked on a variety of films (Independence Day and The Princess Diaries), so his involvement isn't surprising, but I am curious what he'll bring to Nine Lives.
Here's the official synopsis:
Tom Brand (Kevin Spacey) is a daredevil billionaire at the top of his game. His eponymous company FireBrand is nearing completion on its greatest achievement to date – the tallest skyscraper in the northern hemisphere. But Tom's workaholic lifestyle has disconnected him from his family, particularly his beautiful wife Lara (Jennifer Garner) and his adoring daughter Rebecca (Malina Weissman).
Rebecca's 11th birthday is here, and she wants the gift she wants every year, a cat. Tom hates cats, but he is without a gift and time is running out. His GPS directs him to a mystical pet store brimming with odd and exotic cats- where the store's eccentric owner- Felix Perkins (Christopher Walken), presents him with a majestic tomcat, named Mr. Fuzzypants.
En route to his daughter's party, Tom has a terrible accident. When he regains consciousness he discovers that somehow, he has become trapped inside the body of the cat. Adopted by his own family, he begins to experience what life is truly like for the family pet, and as a cat, Tom begins to see his family and his life through a new and unexpected perspective. Meanwhile, his family adjusts to life with an odd and stubborn cat, and his son David (Robbie Amell), steps up in ways Tom never expected.
If any hope exists of returning to his family as the husband and father they deserve, Tom will have to learn why he has been placed in this peculiar situation and the great lengths he must go to earn back his human existence.
Nine Lives opens in theaters August 5th.