Paramount Rebooting 'The Saint' As A Movie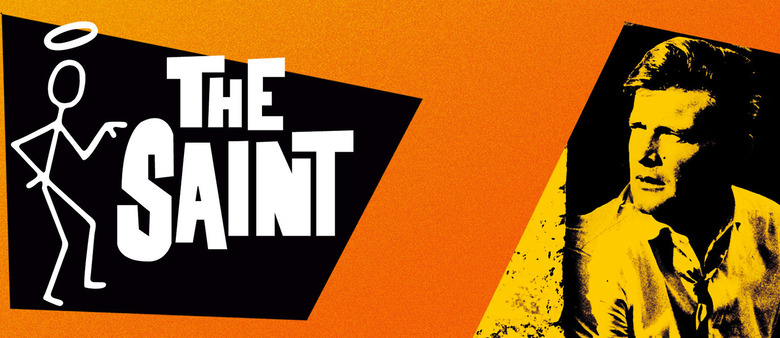 In Hollywood's ongoing quest to revive any and every existing I.P., they've dug down deep and come up with an 88-year-old vigilante. Paramount is reportedly developing a feature adaptation of The Saint, which Gen Xers and older Millennials might remember as that 1997 thriller starring Val Kilmer, Boomers might remember as that 1960s TV series starring Roger Moore, and their parents and grandparents might remember as a series of books by Leslie Charteris, a radio program, and/or a series of movies. 
Deadline reports Paramount has just scooped up the book rights for The Saint, which follows a Robin Hood-like character. He's named Simon Templar but is known as "The Saint." He's technically an outlaw, but a heroic one who targets bad people: corrupt politicians, drug runners, war profiteers, and so on. His gimmick is leaving a calling card at the scene of his crimes, showing a stick figure man with a halo.
The character made his first appearance in Charteris' 1928 novel Meet the Tiger. He was featured in dozens of other books by Charteris through 1963, and then in still more novels by other authors (sometimes still credited to Charteris) through 1997. The Saint has been adapted time and time again for other media: he had a comic strip that ran from the 1940s through the 1960s, a radio show in the 1940s, and multiple movies and TV shows.
But movie and TV watchers today are probably most familiar with the 1997 thriller directed by Phillip Noyce. Kilmer played the Saint as a thief who uses high-tech gadgets and his mastery of disguise, but winds up having to save the day. There have been several attempts to resurrect the character for film and TV since then, including a failed pilot around 2013, but no one's managed to make it work yet.
Lorenzo di Bonaventura, Brad Krevoy, and Robert Evans are hoping to change that. They will produce the new The Saint as a spy thriller. Naturally, it's envisioned as the first in an action franchise. (Just be glad no one's throwing around the phrase "cinematic universe" yet.) Beyond that, details are scarce. We don't know who'll direct, script, or star, we don't know how the setting or character might have changed in this new movie, and we don't know when it'll hit theaters.The Saint's enduring popularity surely appeals to the studio, as does its timeless Robin Hood premise. But is anyone in the year 2016 really clamoring for another The Saint movie? I wonder if this will turn out like last year's The Man From U.N.C.L.E. Warner Bros. reworked the 1960s series for the big screen only to discover that no one in the 21st century cares about that property anymore. (Which is too bad, because the movie was actually pretty fun.) If it succeeds, I suspect it'll be less because moviegoers today love The Saint and more because of whatever other merits it has.