'Guardians Of The Galaxy Vol. 2' Is Done Shooting, Confirmed For Comic-Con Appearance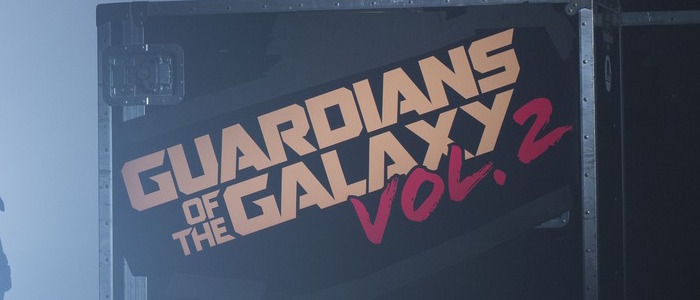 Even though it won't hit theaters for over a year, we're a little bit closer to seeing Guardians of the Galaxy Vol. 2 because production just wrapped on the sequel after shooting in New Orleans. Director James Gunn recorded a video on Facebook live announcing that Chris Pratt had finished all his shooting as Star-Lord and later in the day officially announced on Twitter that production overall was also complete.
Below you can get just a little peak behind the scenes with a couple photos featuring Chris Pratt and his stuntman who helps make Star-Lord look like a bad ass. Plus, find out just how pumped Chris Pratt is in the video straight from the set as he says farewell to the entire crew. The video also features confirmation of a Guardians of the Galaxy 2 Comic-Con panel coming our way, as was previously hinted at last week.
Here's a couple photos Chris Pratt posted to Instagram with his stunt double Tony McFarr:
These were taken the day Chris Pratt wrapped on Guardians of the Galaxy Vol. 2, which just so happened to be the same day that the entire film was finished shooting, as revealed by director James Gunn later in the day:
If you'd like to see the video featuring both Chris Pratt and James Gunn thanking each other and the crew, you'll get a sense for just how much passion each of these guys has for this project. We can't embed the video here for you to watch, but if you want to check it out, head to James Gunn's Facebook page right here.
In that video, James Gunn confirms that Guardians of the Galaxy 2 will be joining Doctor Strange at San Diego Comic-Con with a panel at the convention, and it sounds like we'll get to see the first bit of footage from the sequel there in addition to Chris Pratt and some other unnamed people from the cast. We're not sure if that footage will end up online after it premieres at Comic-Con, but either way, we'll be there with all the latest updates from Marvel Studios.
Surely Marvel Studios will have some other announcements to make in addition to showing off footage from the next two movies from the Marvel cinematic universe, so stay tuned to see what's coming next month. Otherwise Guardians of the Galaxy Vol. 2 arrives on May 5, 2017.