'Suicide Squad' Soundtrack List Revealed: Skrillex, Rick Ross, Panic! At The Disco, And More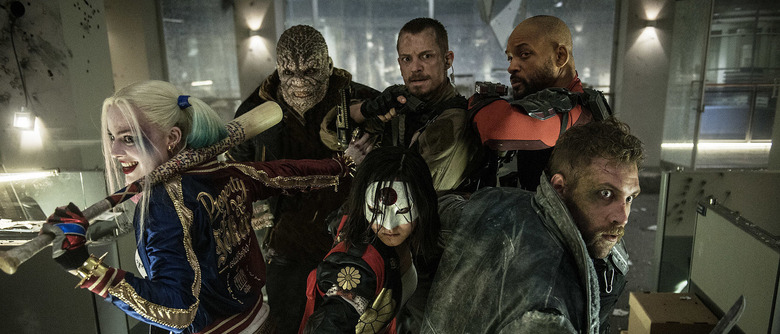 Even in a year jam-packed with superhero sequels and other bloated blockbusters, Suicide Squad's marketing has managed to stand out, and one of the reasons is the music. The promos have eschewed the traditionally bombastic action movie score for fun song choices like "Bohemian Rhapsody" and "Ballroom Blitz." And the official Suicide Squad soundtrack will keep the good times going.
Among the notable tracks are Skrillex and Rick Ross' "Purple Lamborghini," the music video for which will feature Jared Leto's Joker; Panic! At the Disco's cover of "Bohemian Rhapsody"; and familiar hits like Eminem's "Without Me" and Creedence Clearwater Revival's "Fortunate Son." Get the full Suicide Squad soundtrack list after the jump. 
Purple Lamborghini [Explicit] by Skrillex & Rick Ross
Sucker For Pain (with Logic, Ty Dolla $ign & X Ambassadors) [Explicit] by Lil Wayne, Wiz Khalifa & Imagine Dragons
Heathens by twenty one pilots
Standing In The Rain (feat. Mark Ronson) [Explicit] by Action Bronson & Dan Auerbach (of The Black Keys)
Gangsta [Explicit] by Kehlani
Know Better [Explicit] by Kevin Gates
You Don't Own Me (feat. G-Eazy) by Grace
Without Me by Eminem
Wreak Havoc by Skylar Grey
Medieval Warfare by Grimes
Bohemian Rhapsody by Panic! At The Disco
Slippin' Into Darkness by War
Fortunate Son by Creedence Clearwater Revival
I Started a Joke (feat. Becky Hanson) by ConfidentialMX
Suicide Squad's choice of music puts it more in line with irreverent blockbusters like Guardians of the Galaxy or Deadpool than more serious-minded ones like Batman v Superman: Dawn of Justice and Captain America: Civil War. And that's probably a good thing. Audiences have responded really well to funnier, edgier comic book movies, and Lord knows the DC Extended Universe could use a bit of playfulness after the grim battle that was Batman v Superman. In particular, Eminem's purposefully obnoxious, irresistibly catchy "Without Me" sounds like just the perfect choice for a pack of not-so-heroic heroes.Suicide Squad hits theaters August 5.
It feels good to be bad... Assemble a team of the world's most dangerous, incarcerated Super Villains, provide them with the most powerful arsenal at the government's disposal, and send them off on a mission to defeat an enigmatic, insuperable entity. U.S. intelligence officer Amanda Waller has determined only a secretly convened group of disparate, despicable individuals with next to nothing to lose will do. However, once they realize they weren't picked to succeed but chosen for their patent culpability when they inevitably fail, will the Suicide Squad resolve to die trying, or decide it's every man for himself?