'The Pistol Shrimps' Trailer: Are You Ready For Shrimps Basketball Time?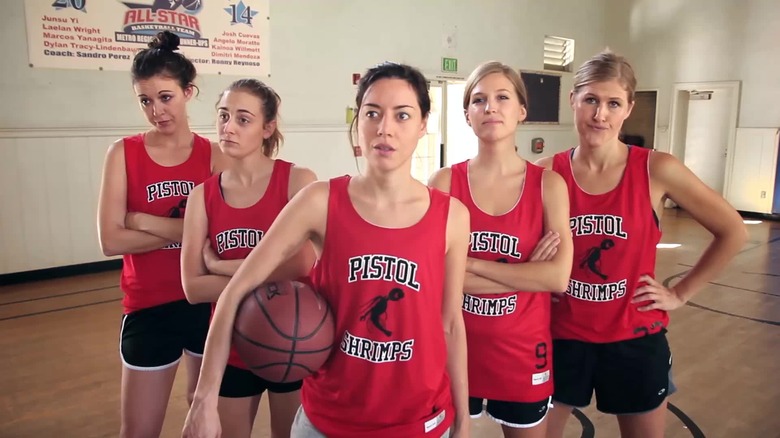 Produced by Morgan Spurlock (POM Wonderful Presents: The Greatest Movie Ever Sold) and directed by Brent Hodge (I Am Chris Farley), The Pistol Shrimps follows an L.A.-based rec-league team. Actress Maria Blasucci created The Pistol Shrimps, and their point guard is Aubrey Plaza (Parks and Recreation). The team is primarily made up of actors and writers, and Hodge's doc is about how they all came together and attempted to win the L.A. City Municipal Women's Basketball League division championship.
Below, watch The Pistol Shrimps trailer.
The Pistol Shrimps have been playing for a few years now. Back in 2014, GQ ran an interview with the team, with them discussing their epic origin story:
"Maria [Blasucci] messaged a few of us ladies and asked if we had any interest in starting a basketball team," Molley Hawkey said. "Much to her/my surprise we all said 'YES!' At the very least, we'd get exercise and have girl talk. We were also promised pizza and milkshakes, I think?"
There's more to their story than pizza and milkshakes, though. When they found out there wasn't a women's rec league in Los Angeles, they started their own. Now, there is a total of 26 teams in their league. In addition to Blasucci, Plaza, and Hawkey, The Pistol Shrimps features Melissa Stetten, Stephanie Allynne, Paisley Grey, Neelo Noory, Amanda Lund, Angela Trimbur, Paula Brunelle, Kelly Vallon, Tali Levi-Crouch, Tara Brydle, and Ally Stoltz. Their fourth season as a team is the focus of Hodge's documentary.
Here are The Pistol Shrimps trailers (Source: Deadline):
Hodge's documentary premiered this year at the Tribeca Film Festival, where it was greeted with mostly positive reviews. If you're in Los Angeles and ever want to see The Pistol Shrimps, they usually play at the Pan Pacific Recreation Center. You can find more information on their official Twitter account.
Here's the official synopsis for the film:
THE PISTOL SHRIMPS is the fun new documentary following the 2015 season of the popular all female basketball team called The Pistol Shrimps – made up of actors, comedians and models in LA. Comic actress Aubrey Plaza (Parks and Recreation), model Melissa Stern and actress/writer Maria Blasucci (Ghost Ghirls) are part of the ragtag team of trash-talking, hard fouling, wisecracking women who bring a much-needed edge to the game. Off the court, these women are also making it happen as writers, musicians, actors, comedians, moms and wives, who always have time on Tuesday nights for their games. The Pistol Shrimps are truly fearless women who are both ballers on and off the court.
The Pistol Shrimps is now available on SeeSo.