TNT's 'Tales From The Crypt' Reboot Is Crowdsourcing For New Stories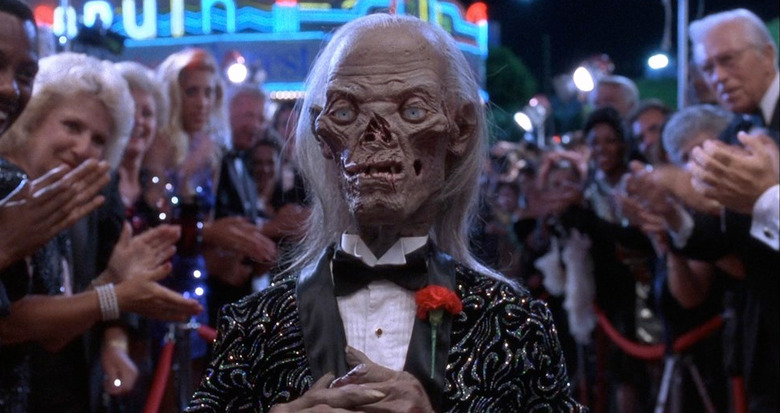 Director M. Night Shyamalan is helping to bring back Tales From the Crypt. The anthology series, which aired on HBO from 1989 to 1996, is coming to TNT. It was originally reported the reboot was inspired more by the 1950s comic book of the same name created by William Gaines and Al Feldstein than HBO's adaptation, but now it sounds like Shyamalan and all involved might take Tales From the Crypt in another direction, as they're searching for new stories from fresh new writers.
TNT is teaming up with Wattpad to find horror trends and stories to incorporate into the series. Below, learn more about TNT and Wattpad's collaboration.
The Wall Street Journal ran the story on TNT and the online fiction community's partnership. Wattpad has a total of 45 million active users and each month, around two million stories are uploaded. TNT will use data from the site to discover story subjects and subgenres. If a writer's story truly pops, then their writing could be incorporated in Tales From the Crypt or another one of TNT's shows.
Head of Wattpad studios, Aron Levitz, had this to say about their work with TNT:
This is about finding really great stories with that attached fanbase, or writers who can create something new. It's not just promotional.
Wattpad will inform the network and the Tales From the Crypt producers what kind of characters and settings horror fans are responding to the most on their site. If a writer's work is selected, then they will be financially rewarded. TBS, a channel also owned by Turner Broadcasting, will gather information and possible stories from Wattpad as well.
Shyamalan, who will direct the first episode of the reboot, hinted at this news back in January:
We are definitely going to utilize the underlying comics. There's something we're doing online that I think could lead to a very unique aspect of audience participation. We'll talk more about that as it evolves.
TNT ordered ten episodes of Tales From the Crypt. When the series ran on HBO, each episode was introduced and closed out by the Crypt Keeper (pictured above), a talking skeleton voiced by John Kassir. Unfortunately, because HBO owns the rights to the character, he will not appear in TNT's reboot, although Shyamalan has promised fans the reboot — which, somewhat surprisingly, might not be an anthology series — will feature a new take on the character, based on the original Crypt Keeper from the comics.