'American Gods' First Look: Shadow And Mad Sweeney Duke It Out In Jack's Crocodile Bar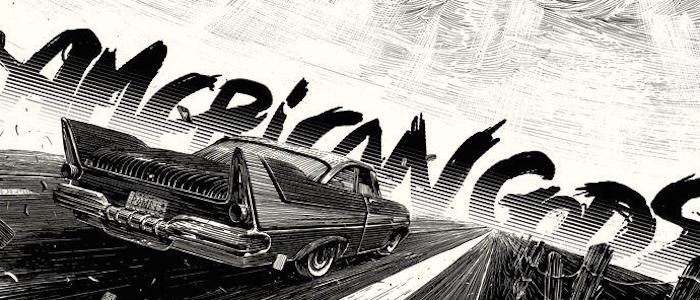 Starz's adaptation of Neil Gaiman's American Gods is currently filming. Bryan Fuller (Hannibal) and Michael Green (Heroes) are running the series, which stars Ricky Whittle, Ian McShane, Emily Browning, Gillian Anderson, Cloris Leachman, Orlando Jones, and more. The fantasy series will premiere next year.
Below, check out the American Gods first look.
In American Gods, Ricky Whittle plays Shadow, an ex-con who becomes a bodyguard for an ancient God disguised as a con man called Mr. Wednesday (Ian McShane). They go on a cross-country journey to amass forces for an imminent war between the old gods, who are rooted in mythology, and the new, based on modern obsessions such as money, celebrity, and technology.
Entertainment Weekly ran the first photos from the series, which is executive-produced by Gaiman and the pilot's director David Slade (Hard Candy). Here's Shadow, Mr. Wednesday, and the leprechaun Mad Sweeney (Pablo Schreiber), in an image that calls to mind Fuller's delightful but short-lived Pushing Daisies: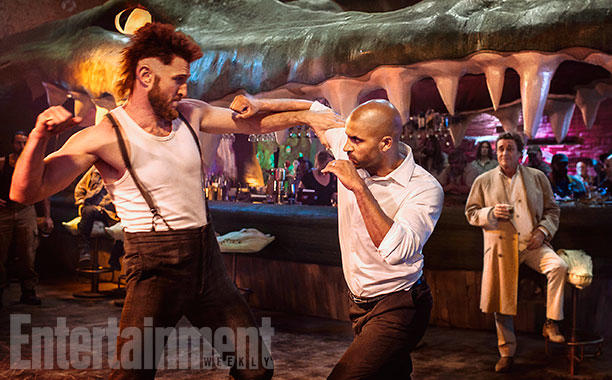 In the photo above, which is set in Jack's Crocodile Bar, Shadow is taking on the drunk leprechaun to prove his worth to Mr. Wednesday. In an interview with EW, Fuller discussed the scene's importance:
It was one of the sets that we were the most excited about and an opportunity to do a tonal landgrab for what we are and what the style of the show will be. [Jack's] is a kind of hillbilly chic aesthetic for Shadow's entrée into the world of the gods.
EW has another photo from the series featuring Mr. Wednesday sitting alone at the bar. Before McShane joined the project, plenty of American Gods fans dreamed of the Deadwood actor in the role. Fuller teased what to expect from McShane as Mr. Wednesday:
I think the comedy and charm and ease of Wednesday's appeal is very well-suited for Ian McShane. He has a vibrancy as Wednesday that could have gone so many different ways in other actors' hands, but has such a specificity and reality, despite the situation at hand.
Michael Green added they want to keep the Gods grounded, that they want them "to be people with problems." The series isn't about "lightning bolts" or "creatures who stomp on cities." American Gods is, as Green says, "the question of day-to-day survival."
Here's the official synopsis for the Starz adaptation:
American Gods been translated into over 30 languages and earned numerous accolades including Hugo, Nebula and Bram Stoker Awards for Best Novel. The plot posits a war brewing between old and new gods: the traditional gods of mythological roots from around the world steadily losing believers to an upstart pantheon of gods reflecting society's modern love of money, technology, media, celebrity and drugs. Its protagonist, Shadow Moon, is an ex-con who becomes bodyguard and traveling partner to Mr. Wednesday, a conman but in reality one of the older gods, on a cross-country mission to gather his forces in preparation to battle the new deities.