'Orphan Black' Renewed For Fifth - And Final - Season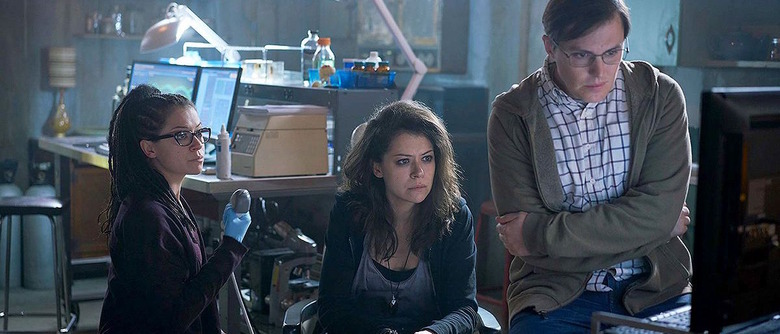 Yes, Clone Club will be back after tonight's Orphan Black season 4 finale — but our time together is definitely nearing an end. BBC America has just renewed the sci-fi drama for a fifth season, which will be its last. In related news, star Tatiana Maslany is probably on Expedia this very minute looking up flights for a much-deserved vacation. 
BBC America and Canadian partner Space announced today that Orphan Black season 5 will consist of ten episodes to air sometime in 2017. Each of the four seasons so far has had ten episodes and premiered in April (with the exception of season one, which premiered March 30, 2013). No premiere date has been announced for season five but we're guessing it'll hit around the same time of year next year.
Said co-creators John Fawcett and Graeme Manson:
We are excited to deliver an epic conclusion to the tale of Sarah and her clone sisters. The past four seasons have been a phenomenal adventure and we are eternally grateful to our loyal fans who have loved the twists and thrills of our weird little show. We are thankful to our partners at Temple Street, and to BBC America and Space for their support and giving us the opportunity to end on a high.
The show began with Sarah, a street-smart hustler who witnesses a woman commit suicide on a train track. The deceased looks just like Sarah, and as she digs into the mystery of why that is, she discovers she's one of several perfectly identical clones spread out around the world. As the series goes on, Sarah and her clone "sestras" — including type-A Alison, geeky Cosima, and deadly Helena, all played by Maslany – meet more like them, and start to uncover answers about who created them and why.
The first season was an addicting ride, but by the third season the show was starting to get tangled up in its own ever-expanding mythology. I haven't watched season four yet, but I've heard it starts to get back on track. Still, it's probably for the best that Orphan Black can start working toward a definitive end date. This isn't the kind of premise that can go indefinitely, and forcing it to become one would've only led to Dexter-level nonsense.
Orphan Black has never been a huge ratings-getter, but it's got a devoted following and critical buzz. Maslany in particular has been widely praised for her performance as all the clones. While hair, makeup, and costuming do a lot to visually distinguish one clone from another, it's Maslany's bravura performance that makes each clone feel like a completely different person. Here's hoping even bigger and better things are in store for her after Orphan Black.Orphan Black's season 4 finale airs tonight (June 16) at 10/9c on BBC America.