A 'Wicked' Movie Will Try Defying Gravity In 2019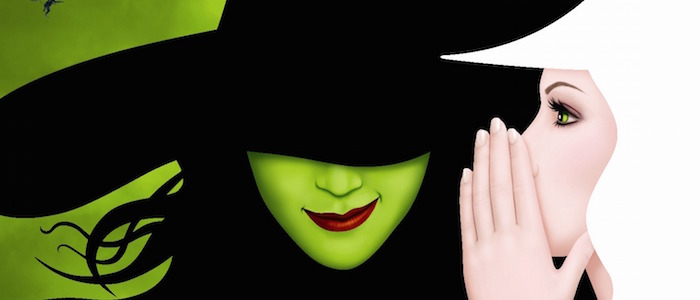 There has been talk of bringing the beloved Broadway musical Wicked to the big screen for years now. Once upon a time (actually 2010), J.J. Abrams was supposedly in the running to make it. A year later, it had somehow transformed into a television miniseries. A year after that, director Stephen Daldry was being courted to take the helm. In 2015, producer Marc Platt talked about wanting go have a movie version in theaters by 2016 and that certainly didn't come together.
But something finally clicked behind the scenes, because Universal has officially announced a Wicked movie and has given it a very friendly release date.
The announcement was made on the official Universal Pictures Twitter account, which features the show's original poster art, the phrase suitably bombastic phrase "The Motion Picture Event," and a release date: December 20, 2019. That's strong placement for a movie like this – a fantasy musical is the kind of thing that will play well to families, especially families that want to get away from talking to each other during their holiday breaks.
The musical phenomenon WICKED comes to the big screen. In theaters 12.20.19. pic.twitter.com/rFojgh56oH

— Universal Pictures (@UniversalPics) June 16, 2016
Interestingly, this date will put Wicked in direct competition with one of Disney's untitled live-action fairy tale movies. This is a game of chicken where one of them will undoubtedly budge.
Wicked has been running on Broadway since 2003 and it's really, really good, telling an alternate version of The Wizard of Oz that begins bubbly and sweet and cute before taking some surprisingly dark and dramatic turns in the back half. We can almost certainly blame the climate of mostly forgettable revisionist fairy tale stories on this show's mere existence, but hey, I'll deal with the likes of Maleficent because because the impossibly sing-along-able "Defying Gravity" exists and that balances the scales.
Anyway, Wicked is loosely based on the (very good) novel by Gregory Maguire and it focuses on the relationship between Elphaba, who is destined to become the Wicked Witch of the West, and Glinda the Good Witch. The show's reinterpretation of these iconic characters is clever and heartbreaking and their casting will be key to making the whole thing work, especially since there's no way original Broadway cast members Idina Menzel and Kristin Chenoweth will return.
Winnie Holzman and Stephen Schwartz, who wrote the book of the musical and the music/lyrics respectively, are still involved in the adaptation, which we can hopefully read as a positive sign (they have to protect their baby). Although Stephen Daldry was the most recent director to be attached to this film, it is currently unknown whether or not he's still around or if Universal is seeking fresh blood. That 2019 release date isn't exactly looming – they can probably take their time making that decision.