'Supergirl' Casts Its Superman: 'Teen Wolf' Star Tyler Hoechlin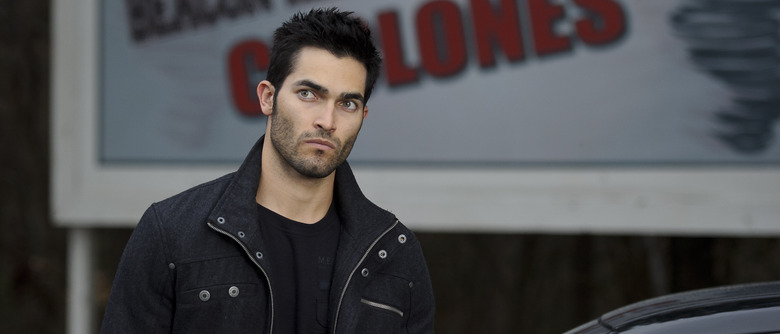 The CW welcomed Supergirl to its growing DC universe last month, and now she's bringing with her another member of the Super-family. The network has announced that Tyler Hoechlin, of Teen Wolf and Everybody Wants Some!!, will guest star in the second season of Supergirl as Kara's much more famous cousin Kal-El, a.k.a. Clark Kent, a.k.a. Superman. Supergirl's first season frequently mentioned Superman, and occasionally showed him as a child, from a distance, or as a blur. However, it's only now that he'll be a proper character. As reported earlier this month, Superman is expected to appear in the first two episodes of Supergirl's second season. No word yet on whether this will be a one-off appearance or a recurring role, but our money's on the latter as long as fans respond well to Hoechlin.
"Greg [Berlanti] and I have wanted to work with Tyler for ages, so this worked out perfectly because Tyler is Superman," gushed executive producer Andrew Kreisberg. "We are so thrilled and humbled to add another amazing actor to the legacy of this iconic character."
The CW was previously home to Smallville, a Superman prequel that it inherited from its predecessor The WB, but that was before the advent of Berlanti's "Arrowverse." More recently, The CW brought on former Superman Dean Cain (Lois & Clark: The New Adventures of Superman) to recur on Supergirl as Kara's foster father.
The casting brings Hoechlin back to the network where he had an early starring role in 7th Heaven. These days he's better known for playing werewolf Derek Hale on the first four seasons of MTV's Teen Wolf. Earlier this year he starred in Richard Linklater's Everybody Wants Some!! opposite Blake Jenner, husband of Supergirl lead Melissa Benoist. Hoechlin got one of the very best scenes in the movie, which you can see below. His other credits include Road to Perdition (he was Tom Hanks' son), Hall Pass, and the upcoming Fifty Shades of Grey sequel.
Supergirl gets its season 2 premiere on The CW this fall.