Broadway's 'Hamilton' Getting Filmed With Original Cast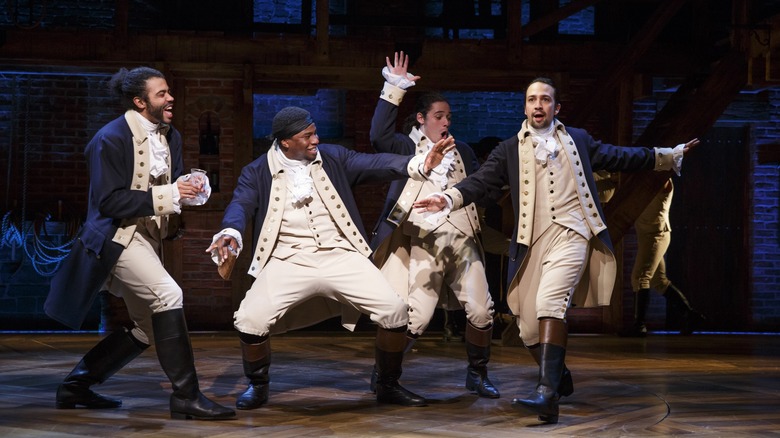 Hamilton is the rare cultural phenomenon that's largely enjoyed by people who haven't actually seen it. Not for lack of interest, mind you, but because Hamilton tickets are basically impossible to get at this point. And creator and star Lin-Manuel Miranda broke a lot of hearts last month when he set a July exit date and predicted a Hamilton movie wouldn't happen "for, like, 20 years." But finally, we've got a tiny bit of good news for those who won't get to the Richard Rodgers Theatre in time.
Miranda has confirmed that the Hamilton Broadway show will be filmed with the entire original cast before Miranda's exit. And though Miranda's understudy Javier Muñoz will step into the role starting next month, Miranda says he could still come back eventually. 
USA Today reported on the Hamilton filming plans:
But before [Miranda] packs up his Hamilton dressing room, the production will film two performances with the original cast this month before they start exiting, as well as shooting offstage cameos.
To be clear, this isn't a proper Hamilton movie adaptation, but the Hamilton play getting caught on film. I think most fans expected Hamilton's original cast would get filmed at some point, but it's still a relief to hear the plans are official. Unfortunately, it's still unclear when, or even if, this footage will be screened for the public. I've got my fingers crossed for a Fathom Events showing (or similar), and don't even dare hope for a longer theatrical run. For now, it's just nice to know that video will exist somewhere.
1)So far @USATODAY is the only one not burying the lede:
We're filming the original cast before I go.
WE GOT YOU. https://t.co/O7Vo9LhF7O

— Lin-Manuel Miranda (@Lin_Manuel) June 16, 2016
2) What are we doing with that footage?
No idea.
Throwing it in a vault at Gringotts for a bit probly. But we're getting it.

— Lin-Manuel Miranda (@Lin_Manuel) June 16, 2016
As Miranda has pointed out, there's a special magic to being in the room where it happens, which is inevitably lost on film. At the same time, seeing Hamilton live isn't a realistic option for many Hamilton fans. There have been sincere efforts to make the show more accessible, like school programs and the daily lottery. (And the soundtrack, which is how most people first fall in love with Hamilton, sells for a perfectly reasonable $17.99 on iTunes.) But there is some irony in the fact that this cultural juggernaut about a "young, scrappy, and hungry" hero is off-limits to most young, scrappy, and hungry types. Here's hoping the Hamilton filmed performance will help rectify that eventually.
Miranda's final curtain call as part of the Hamilton main cast comes on July 9, and Muñoz officially takes over on July 11. However, Miranda is still hoping to drop back in from time to time. "I think this is a role I'm going to be going back to again and again. I plan to revisit the role a lot," he said. Maybe even in Chicago, where Hamilton begins an open-ended run in September: "I'd love to jump in, if only just for a day," he said.
5) I'm the next in that line, kids. I'm a be playing Hamilton for the rest of my life. Til I need help jumping on the desk. For real.

— Lin-Manuel Miranda (@Lin_Manuel) June 16, 2016
For much more on the changes coming to Hamilton, and Miranda's thoughts on same, check out USA Today and Miranda's Twitter account.