Zac Efron May Get Musical Again With Hugh Jackman In 'The Greatest Showman On Earth'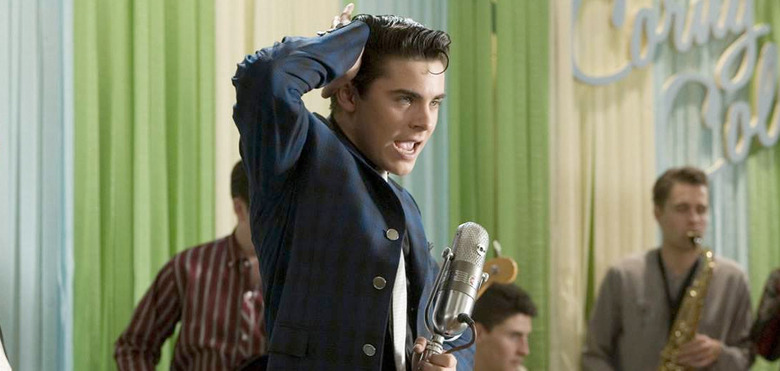 Throughout the early 2000s, Zac Efron jumped around with small roles in TV shows and made-for-TV movies. But he caught his big break on The Disney Channel as one of the stars of High School Musical. The TV movies sparked two sequels, one of which actually ended up in theaters, and gave Efron the firm footing to launch a film career. Since then, he's only returned to the musical world once with a supporting turn in Hairspray, but now he'll finally be singing and dancing on the big screen again.
Zac Efron is currently in talks to take a role alongside Hugh Jackman in The Greatest Showman on Earth, the circus musical that has been developing since 2009, following the creation of the three-ring Barnum & Bailey Circus. Find out more about Zac Efron in The Greatest Showman on Earth after the jump.
Variety has news of Zac Efron being in negotiations with 20th Century Fox to take a role in the long-developing musical, but his specific role in the film hasn't been revealed. However, if Hugh Jackman is on board as P.T. Barnum, the man who created the famous circus which bears his name, then it would stand to reason that Zac Efron could be brought in to play his partner James Anthony Bailey. That's just speculation on our part though.
Way back in 2011, Michael Gracey was attached to direct the film, and it appears he's still involved. We don't really know what to expect from the filmmaker since he hasn't directed a movie before, but he must have a penchant for musicals since he's also linked to the Elton John biopic Rocketman that's supposed to star Tom Hardy.
The prospect of having Efron and Jackman do a musical together sounds rather enticing. Both have the pipes and acting chops to pull it off and potentially make it an Oscar contender. Plus, this will mark a nice change of pace for Efron who has really been hitting R-rated comedies hard over the past couple years with That Awkward Moment, Neighbors (and this year's sequel), Dirty Grandpa, Mike and Dave Need Wedding Dates and next summer's Baywatch movie. It's about time he did something a little different..
This seems like the closest we've gotten to actually seeing this project get off the ground in the past seven years, and a cast led by Jackman and Efron should be enough to ensure that it gets off the ground this time.