'Storks' Trailer: Andy Samberg Delivers A Baby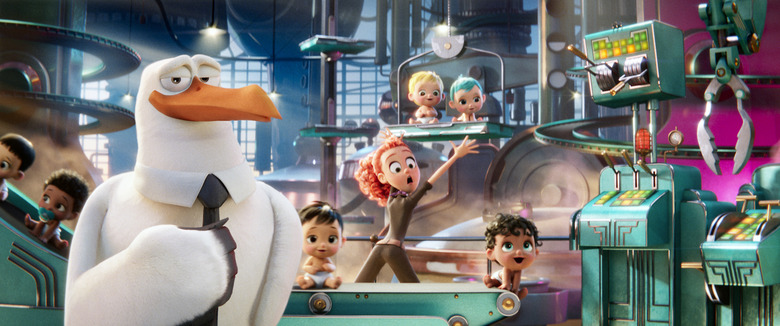 "Where do babies come from?" is the question all parents dread hearing, at least according to every family sitcom ever. But if you can wait 'til fall to have the talk, Warner Bros.' Storks can help you out with a kid-friendly, completely scientifically accurate accounting of how exactly the process works.
As all of us adults know, of course, it begins with the Baby Making Machine on Stork Mountain. The device spits out a tiny human, and a bird (possibly one that sounds exactly like Andy Samberg) is assigned to drop it off at its new home. Along the way, said bird will inevitably run into hilarious and adorable mishaps. Get a little peek at that incredible journey with the latest Storks trailer.
Here's the new Storks trailer, via Entertainment Weekly:
Pixar and Disney are still the most trusted names in American animation, but Warner Animation Group has been working to step up their game. Storks comes out of the Pixar-style "brain trust" that was formed in 2013, bringing together talents like Nicholas Stoller (who directed Storks), Jared Stern, Phil Lord and Chris Miller, John Requa and Glenn Ficarra.
Storks features the voices of Kelsey Grammer as the boss of Junior (Samberg), Katie Crown as Junior's partner Tulip, Keegan-Michael Key and Jordan Peele as wolves with a soft spot for babies, and Jennifer Aniston and Ty Burrell as a pair of overworked parents. The film lands September 23.
Storks deliver babies...or at least they used to. Now they deliver packages for global internet giant Cornerstore.com. Junior, the company's top delivery stork, is about to be promoted when he accidentally activates the Baby Making Machine, producing an adorable and wholly unauthorized baby girl. Desperate to deliver this bundle of trouble before the boss gets wise, Junior and his friend Tulip, the only human on Stork Mountain, race to make their first-ever baby drop – in a wild and revealing journey that could make more than one family whole and restore the storks' true mission in the world.