'Almost Christmas' Trailer: Is June Too Early To Start Marketing A Holiday Movie?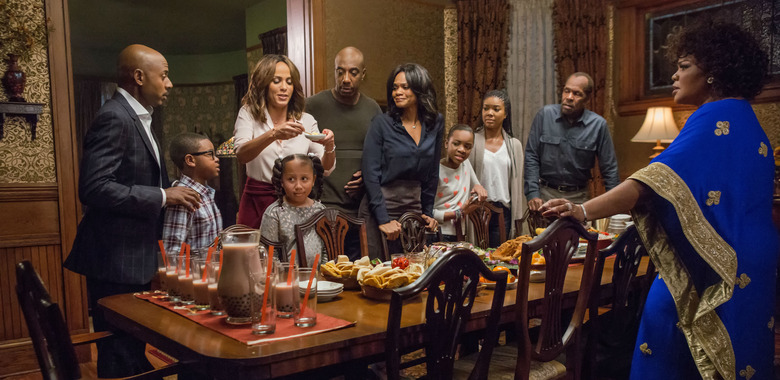 Talk about Christmas creep: Independence Day hasn't even rolled around yet, but Universal is already thinking ahead to the holidays. The first Almost Christmas trailer has arrived, putting a bunch of actors you like (including Danny Glover, Kimberly Elise, Omar Epps, Mo'Nique, J.B. Smoove, Romany Malco, and John Michael Higgins) under one roof for a cozy family get-together. Hijinks, shenanigans, and drama ensue, followed by (we're just assuming here) heartwarming lessons about love and family.
Oh, and Glover gets a chance to say his signature line at one point. You know the one. Watch the Almost Christmas trailer after the jump. 
In truth, it's not that unusual for a studio to start marketing a November release in June. Heck, Trolls, Doctor Strange, and Fantastic Beasts (all of which also open this fall) released their first trailers months ago. But those films have little to do with the seasons they're opening in. A Christmas movie trailer at the height of summer just feels like an unwelcome reminder that time is passing much faster than we'd like to think. Before you know it, this year will be over, and then this decade, and then the decade after that. We'll be left gazing sadly at our own aged reflections, wondering how we got here and what we've done with our lives, and pondering what to do with the short time we have left. Heavy stuff? Hey, blame the Almost Christmas marketing team for starting us down this dark path.
Anyway, to bring this back from the brink of existential despair: Almost Christmas looks like a pleasant dramedy in a similar mold as This Is Where I Leave You, which also dealt with adult children forced to return home after a tragedy. In fact, this might be the perfect movie pick if you're looking to get your own dysfunctional family out of the house for a few hours this holiday season. It's snarky enough to cut through the sentiment, but mild enough not to offend, featuring a likable cast pulled from a few different generations. It probably won't be anyone's favorite film ever, but it's unlikely to be anyone's least favorite either. And then you can all go home and argue over pie about the various love triangles and squabbles hinted at in the trailer.
Almost Christmas arrives November 11.
A new comedy from writer/director David E. Talbert (Baggage Claim) and producer Will Packer (Ride Along, Think Like a Man series, This Christmas), Almost Christmas tells the festive story of a beloved patriarch who asks his family for one gift this holiday season: to get along. If they can honor that wish and spend five days under the same roof without killing one another, it will be a Christmas miracle.