Corin Hardy Will Direct 'Hell Bent'; He Might Return To 'The Crow' Remake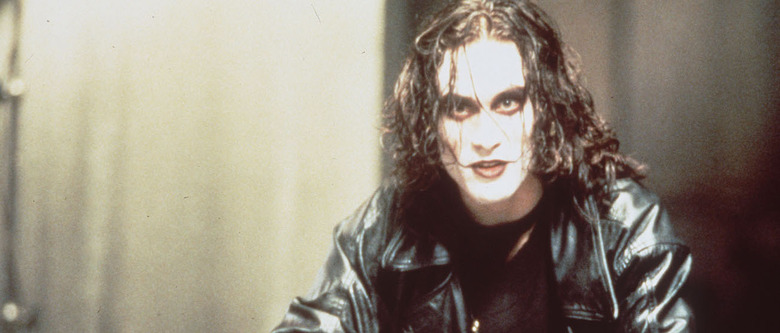 Last year, it was rumored director Corin Hardy was going to drop out of The Crow. Then it was said Hardy would shoot the remake this year. And then, following Relativity Media's legal woes, The Hallow director finally exited the project. In another turn of events, Hardy might return to The Crow, but as we wait to see if that'll come to pass, he's signed up to direct Hell Bent, which is described as "The Dirty Dozen goes to hell."
Below, learn more about the Corin Hardy project and the troubled remake of The Crow.
Deadline writes that Hell Bent is a priority project for Paramount. Written by Mike Finch, Lorenzo di Bonaventura (Transformers) and Mark Vahradian (Red) are producing the action film. The script is currently undergoing revisions, but casting will soon begin. The story follows a group of mercenaries. After being murdered in jail, as they're lead into hell a priest offers them a job: kill Satan before he raises hell on Earth. The project — which Escape Plan and 1408 director Mikael Håfström was once involved with — is budgeted around $60 million.
Deadline adds that Hardy could come back to The Crow. His return is far from a done deal, though, since there are still problems to be worked out. Hardy's version of The Crow involved Jack Huston, who quit the project. Andrea Riseborough (Bloodline) was also in negotiations to play the villain, Top Dollar, but after Relativity ran into some trouble, it's unclear whether she's still involved.
Hardy was a fan of James O'Barr's graphic novel and Alex Proyas' adaptation, but he wanted to go back to the original source material for inspiration, as he told Den of Geek:
I probably wouldn't get involved if it was about remaking the movie. I don't like the idea of remaking movies. There are certain movies you can remake because they were a great idea but not done to a high standard, but I think The Crow is a really special movie. But the graphic novel is an iconic piece of work by James O'Barr, and that was as inspiring as the movie they made. So I've gone back to that and found a lot more depth and details. My version is authentically replicating that.
Hardy, like Juan Carlos Fresnadillo (28 Weeks Later) and Stephen Norrington (Blade) before him, parted ways with the project, but not by choice. After filing for bankruptcy, Relativity hired Dana Brunetti as its new president of production. The decision was to start from scratch with The Crow, so Hardy was let go. This was another one of the many blows the remake has taken over the years.