New 'Jason Bourne' Spot Digs Deeper Into His Past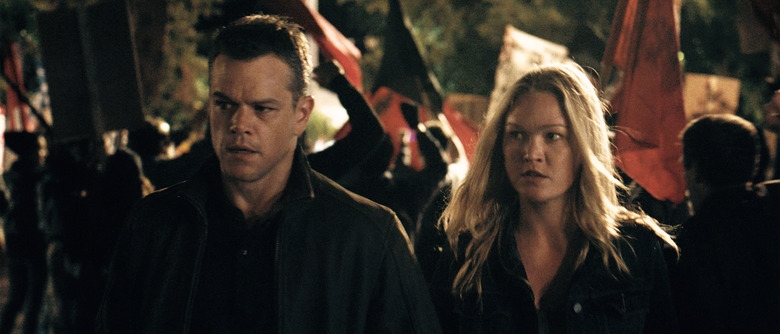 This weekend marks the premiere of Pixar's Finding Dory, a heartwarmer about a friendly fish who sets out to rediscover her forgotten past. But if you prefer your amnesiac heroes a little grittier and angrier, just wait a few more weeks for the opening of Jason Bourne, which brings back Matt Damon as the super-skilled spy. Twelve years have passed since the events of The Bourne Ultimatum, but that hiatus doesn't seem to have mellowed him out one bit. If anything, the new Jason Bourne spot suggests, he's only gotten more intense.
To be fair, Jason Bourne has plenty of reason to be upset. In the latest preview, Jason Bourne yells some spoiler-y stuff about the motives that got him into this whole mess to begin with, which may or may not turn out to have been built on lies.
Returning with Damon to the franchise is Paul Greengrass, who helmed the second and third Bourne movies, and Julia Stiles, who starred opposite Damon in earlier installments. Newcomers to the series include Tommy Lee Jones, Alicia Vikander, Ato Essandoh, and Vincent Cassel. Watch the Jason Bourne spot below. 
It seems a little odd for Universal to give away a seemingly major spoiler right there in a Jason Bourne promo spot, but knowing this series there are probably several more twists and turns to come. I'll be honest with you guys: I have long since lost track of what we do and do not know about Jason Bourne's past. But it's not like he's very good at remembering his own history either, so maybe that just puts us on equal footing.
Jason Bourne opens July 29.
Matt Damon returns to his most iconic role in Jason Bourne. Paul Greengrass, the director of The Bourne Supremacy and The Bourne Ultimatum, once again joins Damon for the next chapter of Universal Pictures' Bourne franchise, which finds the CIA's most lethal former operative drawn out of the shadows.
For Jason Bourne, Damon is joined by Alicia Vikander, Vincent Cassel and Tommy Lee Jones, while Julia Stiles reprises her role in the series. Frank Marshall again produces alongside Jeffrey Weiner for Captivate Entertainment, and Greengrass, Damon, Gregory Goodman and Ben Smith also produce. Based on characters created by Robert Ludlum, the film is written by Greengrass and Christopher Rouse.