'Denial' Trailer: Rachel Weisz Fights A Legal Battle Against A Holocaust Denier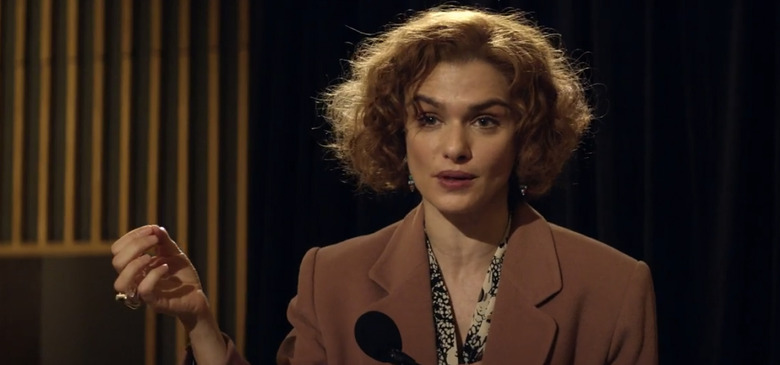 Right now you can see Rachel Weisz starring alongside Colin Farrell in The Lobster, a darkly hilarious romance that is truly original and is best seen knowing as little as possible about the story. But later this year, she'll bring a true story to life in the form of a Holocaust-centric drama. However, this one doesn't take place in the heart of World War II.
Denial adapts the true story from Deborah E. Lipstadt's book History on Trial: My Day in Court with a Holocaust Denier, and as the title of the book indicates, the film follows Rachel Weisz as the author who fought a legal battle against a man (Timothy Spall) who denied that the Holocaust ever happened. It looks like a movie prime for awards contention in good and bad ways.
Watch the first Denial trailer after the jump.
This has all the pieces of a typical awards drama, but the performances from Rachel Weisz and Timothy Spall make it quite engaging. It's refreshing to have a Holocaust movie that doesn't actually relive the terrible crimes committed against Jewish people during those times and tells a story that we haven't heard yet. Plus, this is a story that I'm not entirely familiar with, so seeing it play out on the big screen will at least be educational, even if it is dramatized for the big screen.
Joining Weisz and Spall for this legal battle is Tom Wilkinson with Temple Grandin director Mick Jackson behind the camera with a script from BAFTA and Oscar nominated writer David Hare (The Reader).
This could be a film we see playing at the Toronto International Film Festival before it hits theaters this fall, and there's a chance it could end up being a key contender during awards season. But it's still pretty early to start making any solid predictions, so we'll just have to wait and see what happens.
Based on the acclaimed book History on Trial: My Day in Court with a Holocaust Denier, Denial recounts Deborah E. Lipstadt's (Academy Award-winner Rachel Weisz) legal battle for historical truth against David Irving (Cannes Award-winner Timothy Spall), who accused her of libel when she declared him a Holocaust denier. In the English legal system, the burden of proof is on the accused, therefore it was up to Lipstadt and her legal team to prove the essential truth that the Holocaust happened.
Denial opens on September 30.