Helen Mirren Finally Achieves Her "Great Ambition" To Be In A 'Fast And Furious' Movie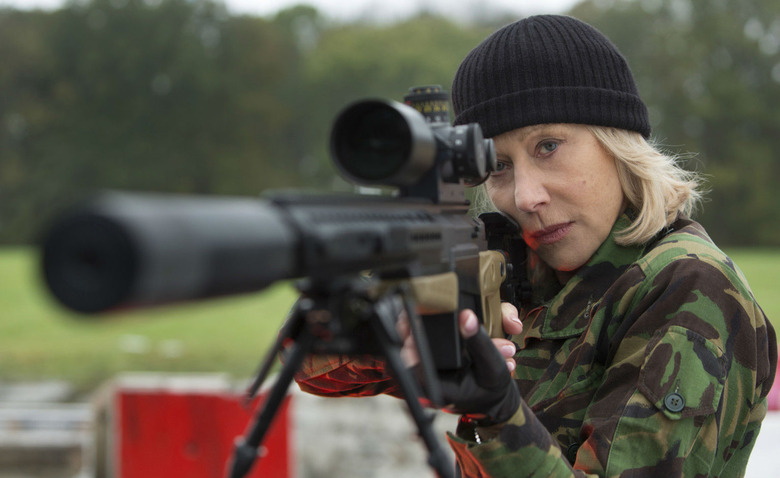 Helen Mirren has played queens and soldiers and monsters and Shakespeare heroines. She's a household name and a fashion darling, not to mention one of the few performers ever to achieve the Triple Crown of Acting (winning an Oscar, a Tony, and an Emmy). But there's one goal that's eluded her until now. After confessing her "great ambition" last year to be in a Fast and Furious movie, Mirren reveals she's finally managed to get herself cast in the next one. Elle confirmed the Helen Mirren Fast 8 casting with Mirren herself. "I'm about to do Fast and Furious 8," the actress told the magazine. "I've always rather loved driving. I said, 'I'll be in it, but only if I'm allowed to drive if I do drive in it.' But we'll see. We'll see how it transpires." We don't have any more details at this time about Mirren's role, and it's unclear whether she's just in for a cameo or something more substantial.
Last spring, Mirren went on the record about her love for the franchise and its star, Vin Diesel:
My great ambition is to be in a Fast and Furious movie. I so want to be a mad driver in a Fast and Furious movie. My claim to fame is I always do my own driving — I was on Top Gear, and I did [my lap] in a very good time. I keep putting it out there, and they never ask me. I'll be in Fast and Furious 8. I have to say Vin Diesel is brilliant. I love Vin Diesel. He's a great guy, smart — I love him. It's partly because of him I'd like to be in one, but also the driving. I'd also love to do another Red-type movie, because those are such fun to do.
Diesel would have been a fool not to take action. The Fast and Furious franchise has proven a great showcase for action stars of all stripes, from veterans like Kurt Russell and Jason Statham (both of whom are back for Fast 8) to up-and-comers like Gal Gadot and Gina Carano to foreign imports like Tony Jaa and Joe Taslim. Mirren isn't even the first Oscar winner to sign on for this installment — that'd be Charlize Theron, who plays the villain.
Mirren joins a sprawling cast that also includes Dwayne Johnson, Michelle Rodriguez, Ludacris, Tyrese Gibson, Nathalie Emmanuel, Scott Eastwood, and Kristofer Hivju. Fast 8 is out April 14, 2017.