Guillermo Del Toro's 'Trollhunters' TV Series Casts Ron Perlman (Of Course), Kelsey Grammer, And Anton Yelchin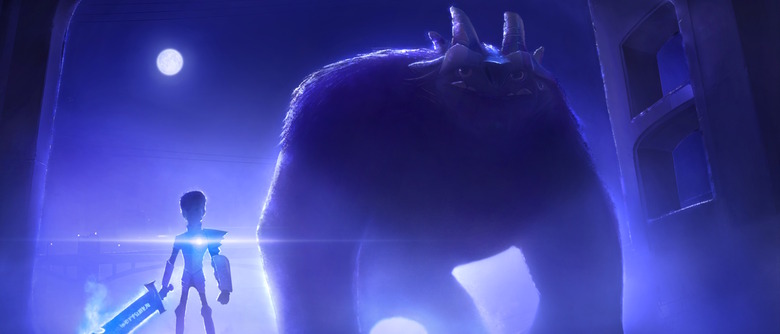 It's going to be a while before we see Guillermo del Toro's next movie, which hasn't even started shooting yet. But in the meantime, he's got a new small-screen project coming our way, the Netflix animated series Trollhunters. And in typical del Toro fashion, he's managed to round up quite a cast. Kelsey Grammer, Ron Perlman, and Anton Yelchin will all lend their voices to the fantasy adventure, which is produced by DreamWorks Animation. 
The Trollhunters cast was announced this week at the Annecy Festival for animation. Described as "an epic family event series," Trollhunters follows a young man named Jim who, along with his two best friends, makes a startling discovery. It turns out that underneath his hometown, the fictional suburb of Arcadia, a secret battle is brewing between good trolls and bad trolls. Yelchin voices Jim, whose discovery of a mysterious amulet sends him on an epic adventure. Grammer is Blinky, a good troll on Jim's side, and Perlman is Bular, a bad troll who goes after Jim.
Perlman's casting should come as no surprise, considering he's one of del Toro's most frequent collaborators. Their relationship began with Cronos in 1993, and has continued through Blade II, the Hellboy films, and Pacific Rim.
Del Toro created and executive produced Trollhunters, which is based on his own young adult novel published last year. Del Toro had originally planned to adapt Trollhunters as a movie, but that version never got off the ground. Netflix and DreamWorks announced the Trollhunters TV series earlier this year. Although del Toro is known mostly for darker, more grown-up fare, he's not really new to kid-friendly entertainment. He's helped produce several family films including Puss in Boots, The Book of Life, and most recently, Kung Fu Panda 3.
Trollhunters will hit Netflix in December 2016. Marc Guggenheim and Christina Steinberg serve as executive producers, and The Lego Movie's Dan Hageman and Kevin Hageman are co-executive producers. Chad Hammes produces.