'Jack Reacher: Never Go Back' Trailer: You Don't Want To Mess With Tom Cruise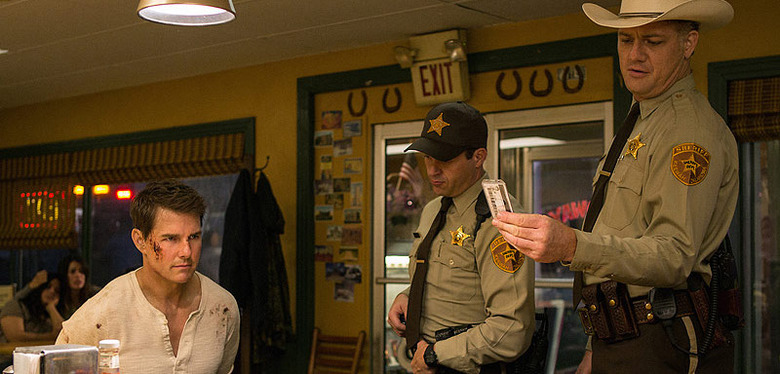 Tom Cruise is back in action this fall with Jack Reacher: Never Go Back, the Edward Zwick-directed sequel to Chris McQuarrie's 2012 film. And our hero hasn't lost a step. In the first promo from the film, the former military police officer once again finds himself in a sticky situation, and once again kicks, punches, and puzzles his way out of it. Watch the first Jack Reacher: Never Go Back trailer below. 
Cobie Smulders dropped by Entertainment Tonight to premiere the first Jack Reacher: Never Go Back trailer.
The Jack Reacher movies are positively full of people whose days or lives are ruined by Jack Reacher simply because they were trying to do their job. Which is part of the fun, I suppose. Normal people like us are stymied every day by guys like these cops — oblivious folks who don't have a clue what we're dealing with. Most of us grumble a bit, maybe threaten to write angry letters to their supervisors, and then go home and rant about it on Twitter. Jack Reacher plows through them like a badass.
Or maybe I'm completely off-base and these innocent-looking men are actually bad guys. That seems to happen a lot in Jack Reacher, too.
Meanwhile, the lone wolf gets a little company this time around, teaming up with the woman who took his old job as commander of the military police: Major Susan Turner, played by Cobie Smulders. When she gets set up for espionage, Jack Reacher steps in to help clear her name. Smulders has co-starred in the Avengers films and played Wonder Woman in The Lego Movie, but Jack Reacher: Never Go Back could be her best opportunity yet to prove her action chops.
Jack Reacher: Never Go Back arrives October 21. Aldis Hodge, Holt McCallany, Patrick Heusinger, and Danika Yarosh also star.