'Assassin's Creed' Behind-The-Scenes Trailer: Michael Fassbender Tries To Break The Video Game Movie Curse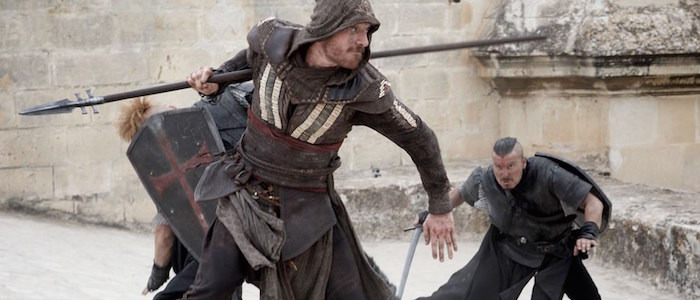 2016 looked like it could be a turning point for video game movies, but so far the results have been severely mixed. The Angry Birds Movie has made good money, but did little to change the minds of people who thought a film based on an iPhone game was a dumb idea. Ratchet & Clank was a flop all around. And Warcraft may have made big money in China, but it opened to poor reviews and dismal box office at home.
Fortunately, the genre will have one more chance to break the curse later this year with Assassin's Creed. Directed by Justin Kurzel, the fantasy adventure stars Michael Fassbender as a modern-day man who gets roped into an ancient conflict between the Assassins and the Templars. He's forced to relive the "genetic memories" of his ancestor Aguilar, who lived in 15th century Spain. A new Assassin's Creed behind-the-scenes trailer shows off some of the cool, crazy stunts in store, along with some talking-head commentary from Fassbender and Kurzel. Watch it below. 
Frankly, I'm still waiting for Assassin's Creed to give me a reason to care about its main character or the world he's in. (And to be fair, the film still has plenty of time to do that.) But it definitely looks cool, from the parkour-like action to the sweeping battle scenes to the gorgeous set designs and sweeping vistas of 15th century France. And the core concept is an intriguing one. Who knows? Maybe this will be the film to put video game movies back in the public's good graces after all.
Assassin's Creed hits theaters December 21. Marion Cotillard, Jeremy Irons, Brendan Gleeson, and Michael K. Williams also star.
Through a revolutionary technology that unlocks his genetic memories, Callum Lynch (Michael Fassbender) experiences the adventures of his ancestor, Aguilar, in 15th Century Spain. Callum discovers he is descended from a mysterious secret society, the Assassins, and amasses incredible knowledge and skills to take on the oppressive and powerful Templar organization in the present day.