Watch The First Footage From 'Piper', Pixar's Best Animated Short Film In A Decade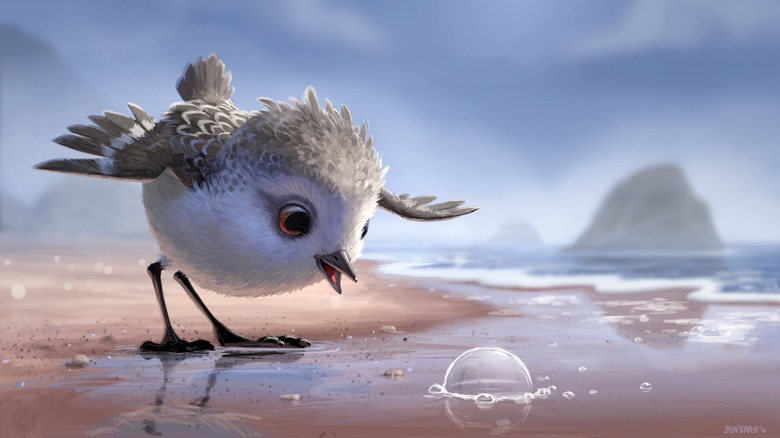 If you're like me, you enjoy Pixar's animated short films almost as much as you do their features. The latest short from the Emeryville-based animation studio is Alan Barillaro's directing debut Piper, which in my opinion might be the best theatrical short film from Pixar in a decade.
I first saw this short film at a Finding Dory early press day a few months back, where minutes before the screening not one person outside of Pixar even knew of this short film's existence. I was gobsmacked by this adorable yet beautiful piece of cinema. I have since seen it two more times and it doesn't get old. You'll see the whole short film playing in front of Finding Dory, in theaters later this week. But for now take in this short 24-second preview to get you excited.
Pixar Short Film Piper Preview
In Piper, "a hungry sandpiper hatchling discovers that finding food without mom's help isn't so easy." What I love about this short film is that it takes the best of Pixar's character-based animation and blends it with the narrow depth of field, with the almost photo-real cinematography emulating macro photography.
Barillaro has been with Pixar for some time, acting as a supervising animator on Wall-E, Brave and The Incredibles. Piper is his directorial debut, and I hope we see more from him. I also hope that Disney Consumer Products Group doesn't drop the ball again and not make some cute plushes based on this animated short, as I'm sure they'd sell well in Disney stores worldwide. Pixar and Disney's animated shorts always seem to get the shaft from the merchandising departments.
The score for the short was composed by Adrian Belew, who is best known for his work as a guitarist and vocalist of the progressive rock group King Crimson. His songs have appeared in a bunch of movies and television shows, but this is his first attempt at composing an original score. This came about as Barillaro used Belew's compositions as temp music while he was developing the short film. Finding Dory director/Pixar brain trust member Andrew Stanton knew the musician and made the introduction.