'Star Trek,' 'Star Wars,' And 'Batman' VR Video Games Are On The Way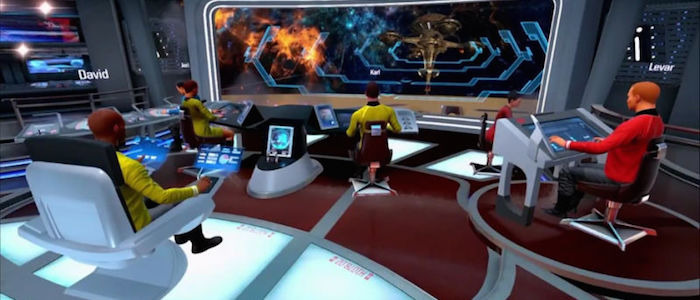 It's easy to cynical about virtual reality until you actually give it a try. Sure, you look like an idiot when you have one of those headsets on, but when you're engaging with the right material, the experience can be breathtaking. It's not going to replace traditional gaming and it certainly won't change the way we watch movies, but it's a fascinating new medium and a thrilling way to experience stories.
As expected, this year's E3 conference hasn't been shy about teasing upcoming VR experiences and the next step for game developers and publishers is pretty clear. The faithful and the adventurous gamers are in the bag for this technology, so how do you go about convincing normal people to give this stuff a chance? The answer may lie in making games based on already beloved universes and characters, as new VR games based on Star Trek, Star Wars, Batman are on the way.
Let's take a look at these in order of how much the trailers actually reveal, shall we? First up is Star Trek: Bridge Crew, a game that uses VR headsets to create a game that actually looks and feels like a proper Star Trek experience. There have been plenty of Trek game before, but they have been predominately shooters and straightforward action games, traditional experiences that just-so-happen to feature characters from whatever movie or television show was recently released.
But as the title of Star Trek: Bridge Crew implies, the game plants you on the bridge of a Federation starship, gives you a specific job (captain, engineer, helmsman, etc) and forces you to work in tandem with other players to control the ship, navigate sticky situations, and battle enemies. There is no straightforward shooting, just teamwork and coordination and overextending yourself to keep your ship intact and the crew alive. The game still looks like it needs a little work (some of the animations are a little rough and the character models a little dull), but the whole thing appears conceptually sound.
The trailer, which features Trek alums Levar Burton, Karl Urban, and Jeri Ryan trying the game, is a ton of fun. There is no specific release date attached to this yet, but the preview does state Fall 2016.
Next up is the awkwardly titled Star Wars Battlefront: X-Wing VR Mission, which looks to use virtual reality to put you right into the cockpit of a Rebel starfighter. This teaser isn't quite as exciting as the Star Trek: Bridge Crew video because, well, it looks a little familiar. There have been plenty of great dogfighting games that put you in control of Star Wars spaceships over the years. Plus, this doesn't even appear to be a full game, just an expansion for Star Wars: Battlefront that finally lets you pilot ships. And yet, the graphics on display here look stunning and the thought of totally immersing yourself in a heated battle with a squadron of TIE Fighters sounds more than a little exciting. Specific details remain scarce, but this mission will be exclusive to PlayStation VR and will be free for anyone who already owns Battlefront.
And finally, that brings us the most vague and unhelpful trailer of the bunch. Yes, Batman: Arkham VR is a collection of words that should have your attention, but this teaser is little more than a bunch of close-ups on the Dark Knight's mask with a fairly standard voice over from Mark Hamill's Joker. How, exactly, Rocksteady plans to bring their celebrated third-person action/stealth series to virtual reality remains completely unknown...but I know I'm interested in finding out.