Star Wars Cologne Will Let You Smell Like A Jedi, Sith Or Amidala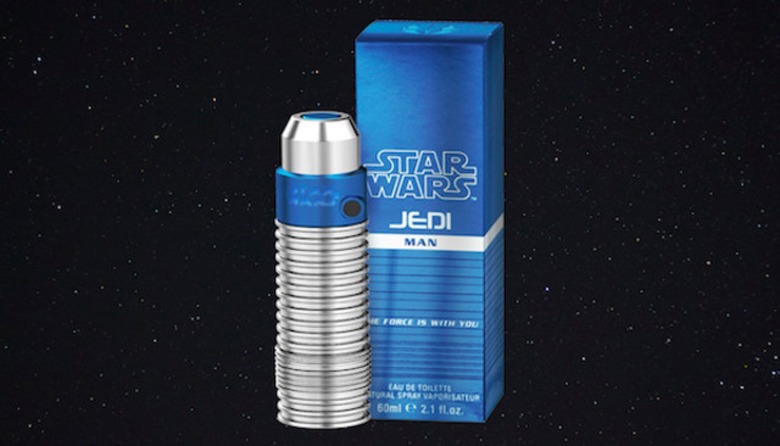 When it was announced that Star Wars-themed lands would be constructed in Disneyland and Disney World, one of the weird asides was that we'll finally get to take in the smells of the creatures and food of this galaxy far far away. But it looks like you won't have to wait until The Star Wars Experience opens later this decade (unofficial estimate, no opining date has been officially announced) to find out what a Jedi smells like. Lifestyle, an affordable German perfumer manufacturer, is selling a set of three Star Wars fragrances. What does a Jedi smell like? Find out more, after the jump.

For only $16 you can smell like a Jedi, Sith or Amidala. The Jedi and Empire varieties are being produced for men, and the Amidala fragrance is being produced for the ladies.
The woody-aromatic scent Star Wars Jedi exudes positive energy. The start of this refreshing yet distinctively masculine scent experience make tangy notes of mandarin, paired with spicy aromas of pink and black pepper. These are supplemented in the heart with gentle nuances of sandalwood. Rounding out the ensemble with aromatic essences of amber, patchouli and musk.
The strong character and modern smell Star Wars Empire owes its distinctive recognition value of the combination of sparkling and seductive notes with aromatic, astringent chords. At the beginning of oriental-woody fragrance experience is a blast of fresh notes of lime and bergamot which are enhanced by chords from apple and jasmine in the heart. The composition is completed by a base of amber, sandalwood, patchouli and tonka bean.
The fruity-oriental fragrance Star Wars Amidala envelops its wearer with an elegant and sensual aura and royal grace. The creation opens with refreshing notes of mandarin and green apple. In the heart seduces with an elegant bouquet of orange blossom, patchouli and sandalwood. Sensual Vanillie- and musks ensure a round underscore this composition.
Its a bit weird that one of the fragrances is for the Jedi, while the other is for the much broader grouping of the Empire rather than the Sith. The designs of the containers look almost like a lightsaber hilt, but in colors we've never seen before. As far as I can tell, the Star Wars fragrances are currently only available in Germany.
via: geekologie