Watch Four 'Finding Dory' Clips, Plus Some Behind The Scenes Recording & Animation Footage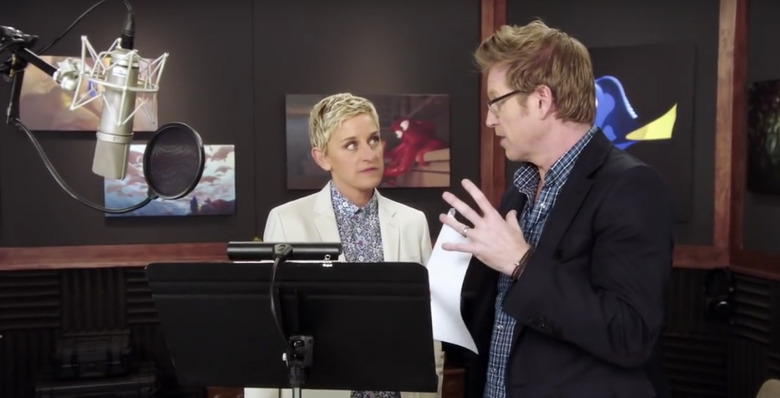 This week brings Pixar Animation's anticipated sequel Finding Dory, the follow-up to the animation studio's 2003 hit undersea adventure Finding Nemo. The early buzz on the film is that while it treads the same water that the first film covered, it's still an outstanding sequel and will get the water works flowing from your eyes.
If you still need some more convincing to catch Finding Dory with your family this weekend, some new clips have just emerged online, featuring a bunch of the new aquatic characters, including Kaitlin Olsen and Ty Burrell as a couple of whales, Ed O'Neill as Hank the octopus.
Here's the four Finding Dory clips from Fandango:
If you don't want to spoil any of the movie for yourself (the clips above don't really give much away), maybe you'd rather see some footage from behind the scenes. Of course, footage from behind the scenes of an animated movie is much different than that of a live-action film. Since animators are the ones bringing this movie to life, this footage shows how the brilliant minds at Pixar working on different elements of the film. Plus, there are some snippets of director Andrew Stanton offering some guidance to the animators.
In addition, we get to see the other side of the work behind animated film coming together with this footage that shows Ellen DeGeneres, Albert Brooks, Diane Keaton, Eugene Levy, Ed O'Neill, Caitlin Olsen and Ty Burrell doing various takes of their dialogue. In the footage, Andrew Stanton pops up again offering some direction for what's happening in the scene and where the actors should be emotionally.
If you still want to see more from Finding Dory, watch the most recent trailer right here.
Disney•Pixar's Finding Dory welcomes back to the big screen everyone's favorite forgetful blue tang Dory (voice of Ellen DeGeneres), who's living happily in the reef with Nemo (voice of Hayden Rolence) and Marlin (voice of Albert Brooks). When Dory suddenly remembers that she has a family out there who may be looking for her, the trio takes off on a life-changing adventure across the ocean to California's prestigious Marine Life Institute, a rehabilitation center and aquarium.
In an effort to find her mom (voice of Diane Keaton) and dad (voice of Eugene Levy), Dory enlists the help of three of the MLI's most intriguing residents: Hank (voice of Ed O'Neill), a cantankerous octopus who frequently gives employees the slip; Bailey (voice of Ty Burrell), a beluga whale who is convinced his biological sonar skills are on the fritz; and Destiny (voice of Kaitlin Olson), a nearsighted whale shark.
Deftly navigating the complex innerworkings of the MLI, Dory and her friends discover the magic within their flaws, friendships and family.
Finding Dory is set to open on June 17.