'24: Legacy' Leaves The Door Open For Kiefer Sutherland To Guest Star As Jack Bauer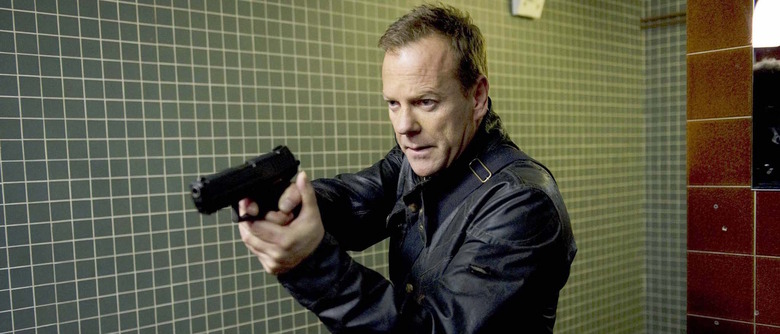 In January of next year, the midseason brings the debut of 24: Legacy, the series reboot of FOX's action adventure series that once starred Kiefer Sutherland as Counter Terrorist Unit agent Jack Bauer. The original iteration of the series was revealed to be over in 2010 with eyes set on a feature film adaptation, though that never came to fruition. But three years later, Jack Bauer returned to TV for the event series revival 24: Live Another Day, which turned out to be his last outing as the rogue hero. Or was it?
While speaking at the ATX TV Festival in Austin, TX, executive producer Howard Gordon said that he thinks Jack Bauer still has some life in him, and there's a chance he could even appear at some point in 24: Legacy. Find out more about a possible Kiefer Sutherland 24 Legacy appearance below.
Here's what Gordon said during the panel at the ATX TV Festival (via Deadline):
"I do think the character has life in him, whether it's a movie or if he intersects with this new iteration of 24. I sure would love to see him at some point on the show, and I don't think he's ruled it out, either."
It's interesting that Gordon mentions the possibility of a 24 feature film again, let alone the chance for Kiefer Sutherland to return as Jack Bauer, because the actor said last fall that he was completely done with the franchise. Sutherland previously said, "24 is definitely over now for me. It's one of the greatest gifts I've ever been given as an actor, but it's moving on without me. I want to do other things." As Jack Bauer frequently said, "Damn it."
However, there have been plenty of times when we thought an actor wouldn't reprise one of his most famous roles, and every now and then a paycheck is just too good to pass up. I'm willing to bet that if 24 wanted to bring Jack Bauer in for an episode during sweeps or something like that, Sutherland could be convinced to guest star. If anything, I bet he just doesn't want to be a series regular on the show again, especially since he has a different show, Designated Survivor, coming to TV this fall. Plus, Sutherland is still an executive producer on 24: Legacy, so it's not as if he's completely removed from the series.
As for 24: Legacy, it will follow Straight Outta Compton star Corey Hawkins as Eric Carter, a former Army Ranger who finds himself pulled back into action as his past comes looking for him. Meanwhile, Miranda Otto (War of the Worlds, Lord of the Rings: The Two Towers) has taken the female lead as Rebecca Ingram, the blazing smart former head of CTU who is still struggling with second thoughts about having left the counter-terrorism agency. And Jimmy Smits plays John Donovan, a powerful U.S. Senator with higher political aspirations, married to Rebecca Ingram and running for president.
If you haven't seen the series trailer yet, you can watch it below:
24: Legacy will premiere on FOX after Super Bowl LI on February 5, 2017.