'Suicide Squad' TV Spots: Will Smith Isn't A Fan Of Public Displays Of Affection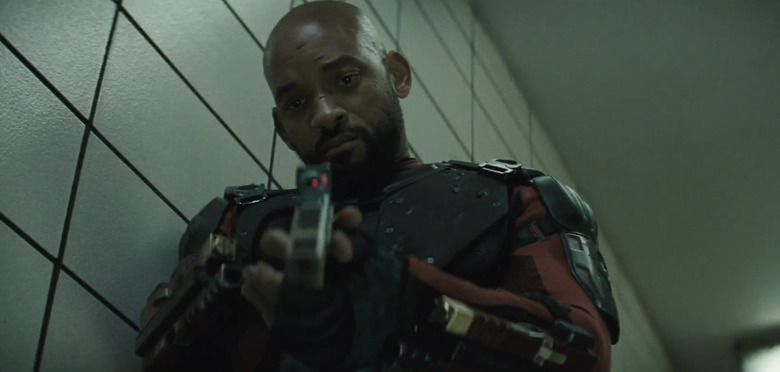 The release of Suicide Squad is still a couple months away, but Warner Bros. Pictures has already begun the onslaught of marketing on television with a batch of TV spots that debuted earlier this week during the NBA Finals. There's a lot riding on the next film from the DC Comics cinematic universe after the studio was not happy with the box office performance and reception of Batman v Superman: Dawn of Justice earlier this year. Thankfully, everything we've seen so far paints this as the DC Comics movie that will make fans and general audiences alike very happy.
Watch the new Suicide Squad TV spots after the jump.
Most of the footage in the first two TV spots is stuff we've already seen in the previous trailers (though the third one does have an amusing moment between Joel Kinnaman and Will Smith), but I love how much energy these spots have. They're fun but still twisted and dark, and I'll never get sick of the soundtrack being used for the marketing so far. Hopefully the actual soundtrack has some.
It probably couldn't hurt to watch the most recent trailer for Suicide Squad, which you can do right here.
It feels good to be bad... Assemble a team of the world's most dangerous, incarcerated Super Villains, provide them with the most powerful arsenal at the government's disposal, and send them off on a mission to defeat an enigmatic, insuperable entity. U.S. intelligence officer Amanda Waller has determined only a secretly convened group of disparate, despicable individuals with next to nothing to lose will do. However, once they realize they weren't picked to succeed but chosen for their patent culpability when they inevitably fail, will the Suicide Squad resolve to die trying, or decide it's every man for himself?
Written and directed by Ayer based on the characters from DC Comics, the film stars Will Smith (Ali, The Pursuit of Happyness), Jared Leto (Dallas Buyers Club), Margot Robbie (The Wolf of Wall Street, Focus), Joel Kinnaman (Netflix's "House of Cards"), Viola Davis (The Help, Doubt) Jai Courtney (Insurgent), Jay Hernandez (Takers), Adewale Akinnuoye-Agbaje (Thor: The Dark World), Ike Barinholtz (Neighbors), Scott Eastwood (Fury), Cara Delevingne (Paper Towns), Adam Beach (Cowboys & Aliens), and Karen Fukuhara in her feature film debut. It is produced by Charles Roven and Richard Suckle, with Zack Snyder, Deborah Snyder, Colin Wilson and Geoff Johns serving as executive producers.
Suicide Squad opens in theaters on August 5.