Adam Wingard's 'Death Note' Adds 'Straight Outta Compton' Star Keith Stanfield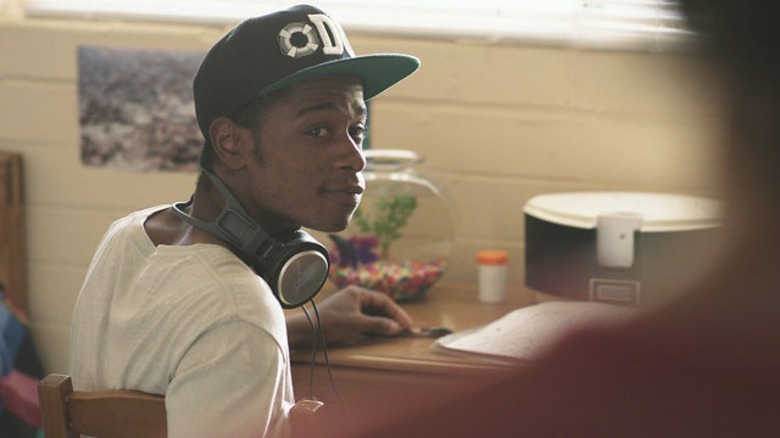 Netflix's Death Note is jotting down another name. Straight Outta Compton and Short Term 12 actor Keith Stanfield has reportedly closed a deal to star in the manga adaptation, alongside Margaret Qualley (The Nice Guys) and Nat Wolff (Paper Towns). Adam Wingard (The Guest) is directing. 
Variety reported on the Death Note Keith Stanfield casting. Wolff leads the cast as an American student who stumbles across a supernatural notebook that allows him to kill anybody in the world, simply by writing down their name and picturing their face. He decides to use this magic to cleanse the world of people he deems evil or otherwise unworthy. At first the deaths seem random, but as the bodies pile up the police begin to take notice. A cat-and-mouse game ensues when a brilliant young detective takes a special interest in the case.
Qualley plays the female lead, but we have no other details on her character right now. (She might be playing model Misa Amane if the Death Note movie remains faithful to its source material.) Stanfield's role has not been revealed.
Since his breakout turn in Short Term 12, Stanfield has popped up in a number of high-profile projects. He played a purger in The Purge: Anarchy, a young activist in Selma, a high school bully in Dope, and rap legend Snoop Dogg in Straight Outta Compton. Unfortunately, he only ever seems to appear for a few minutes at a time, like some sort of young black male Judy Greer. Here's hoping Death Note gives him a little more to do. His other upcoming releases include Oliver Stone's Snowden and David Michôd's War Machine.
Death Note has been brewing for a while, with Shane Black attached to direct at one point. Wingard signed on last year after Black dropped out. Death Note was deep into development when Warner Bros.' rights expired, and Netflix swooped in to scoop it up. Death Note's most recent script was written by Jeremy Slater, and Roy Lee, Dan Lin, Jason Hoffs, and Masi Oka are all producing. Shooting is expected to begin this summer.