'Mallrats 2' Is Now Becoming A TV Series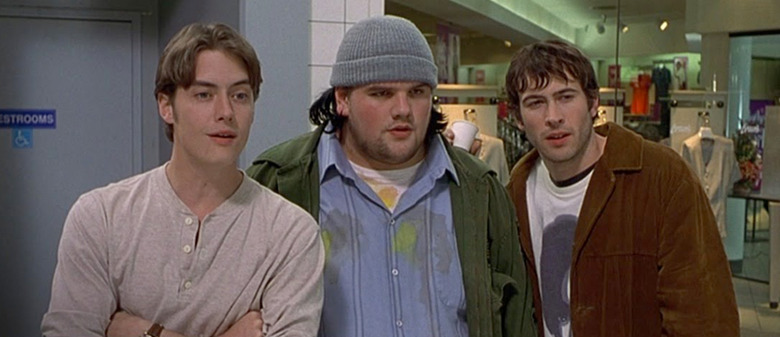 It's been over a year since we heard that Kevin Smith was looking to return to the world of Mallrats with a sequel to his 1995 comedy, which starred Jason Lee and Jeremy London as a couple of meandering twentysomethings trying to figure out their place in the world. The film bombed at the box office over 20 years ago, but it's a favorite among Kevin Smith's fans, and it fits right in with the rest of the movies in his View Askew-niverse.
However, we haven't heard any updates on the sequel since the cast was rounded up and a mall was found for production. It was meant to be shot towards the end of last year before Clerks 3, but that clearly didn't happen, so what's going on? Kevin Smith recently gave an update on Mallrats 2, and revealed that it has now been turned into a Mallrats TV series with 10 episodes planned. Find out how this came to be after the jump.
Kevin Smith recently appeared on the Preston & Steve Show at WMMR in Philadelphia (via ScreenRant), and he explained what happened with Mallrats 2. First, he explained the process of even getting a sequel to the Universal title off the ground, which proved to be more complicated than anticipated:
The way I do things is I start talking about them until they're true. So when I started talking about Mallrats [2], there was nobody involved except me. Then I brought the cast together and then the script and everything. And the one component that was missing was Universal, the studio. I called my agency and I said, 'Hey, man, can I just make a Mallrats sequel? Universal owns it. Do I really need to make it with Universal? Can I just write a script and maybe buy the title from them or something?' The agent told me, 'Yeah, absolutely. They'll let it go.' And I was like 'Are you positive? I don't want to start this and that's not the case.' And he's like 'Yeah, there's three ways in which you can make this movie. You finance it yourself, you finance it with the studio, or they finance it. But since it's an old movie and it's a very small title, it'll probably be you financing it yourself.' Right on. Fantastic. That's what I like to hear. Nobody can stop me from self-expressing.
So I wrote my script, put everything together, and then I was like, 'I'm ready to go. Do I have to reach out to Universal for approval or something? Or let them pass or whatever?' And he's like 'Yeah, we have to submit the script.' And I'm like 'Why do we have to submit the script?' And he says, 'Because they own the property and it's a formality. It's gonna be fine.'
However, it turns out getting the title from Universal wasn't all that easy. Smith explained:
So we submitted the script, and my agent comes back to me and he goes, 'Well, apparently Universal has never let a catalog title go. Any title they own, they've retained. They've never done something where they've been like, oh, you can take it back and go make a sequel. Never in the history of the studio.' And I was like 'Wait, you told me that was one of my options.' And he said, 'Well, apparently I was wrong. So right now there's two options, you make it fully, the studio finances it or you co-finance it with the studio.'
So we entered into a protracted negotiation with Universal, trying to get it made in different pockets of the studio. And I haven't told anybody this, so I guess this is kind of an exclusive...it is happening, but it's just taking a longer time to build it. What we did was reconfigured it. Mallrats is a 20 year old movie. And the idea of sequelizing a 20 year old movie, some people are just like 'Why would you bother? It wasn't successful the first time. What did you make the first time, $2 million? I don't know if the world is screaming out for this.'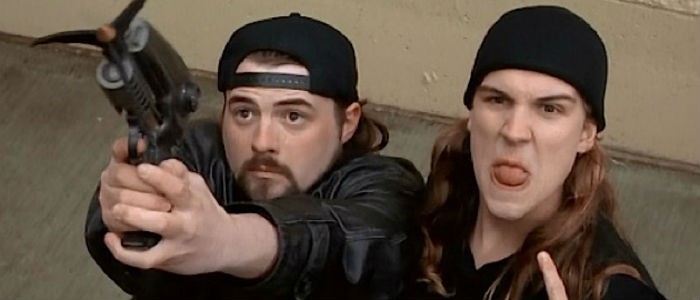 That's not a surprise at all, since many people were wondering why a Mallrats sequel was even being considered back when it was announced. However, once Kevin Smith started dabbling in television by directing an episode of The Flash this past year, it opened a bunch of new doors for future projects and a new possibility for a Mallrats follow-up:
However, I went and directed an episode of The Flash last season, I loved doing it, I get to go back in August and do another one. But when I went up there, that was kind of a weird gamechanger in my career. Apparently that's like the best work I've done in a long time. Not just the internet but the press were like 'This is the best thing he's ever done.' So I felt at home in the medium. Because I did the episode of The Flash, MGM reached out about Bucakroo Bonzai, and suddenly that came together we went out and pitched yesterday and found a home for it. I can't say who it is yet since we don't have a finalized deal yet. But we sold Buckaroo Bonzai yesterday.
While I'm in that world and space, a couple months ago, we started reconfiguring the idea of doing Mallrats not as a film, but as a series. Universal and I are just about to close our deal to do Mallrats the series, and then we take it out into the world and find a home for it. So instead of doing a Mallrats movie, I'm gonna do 10 episodes of a Mallrats series.
That's right, Mallrats 2 is being reconfigured as a Mallrats TV series. Does that mean it's still a sequel? Previously we heard the movie was titled MallBrats, which implied that it might follow a younger cast, perhaps the offspring of the chief characters from the first movie. But if it's being reconfigured, maybe it will only have loose ties to the original movie and will head off in a different direction.
While I'm happy to see Kevin Smith get a little reinvigorated after his work on The Flash was so well-received, his original work in the feature film department has left something to be desired lately. That's why I'm not necessarily confident that his return to a property like Mallrats will yield good results, even in a TV format. Depending on where it goes, Mallrats might not feel like the right successor to the original movie since Smith may not be allowed to be as vulgar as he was back in 1995, unless the series lands at a streaming service or on cable.
However, Smith previously indicated that he watched a bunch of Mad Men in order to figure out how to handle the 18 returning characters he was planning on bringing back for the sequel. And he was also watching 21 Jump Street for the first time to see where the bar had been set for quality R-rated comedy. Those are great places to look for inspiration, but it remains to be seen if Smith can deliver a quality TV series based on his own film when he doesn't have something as well established as The Flash to work with.
Smith still plans to shoot at the Exton Square Mall in Pennsylvania he stumbled upon last fall, but there's no indication as to when production might begin or just what we can expect from the series. If anymore details surface, we'll be sure to let you know.