'Finding Dory' Spoiler-Free Review: This Is Why We Should Never Underestimate Pixar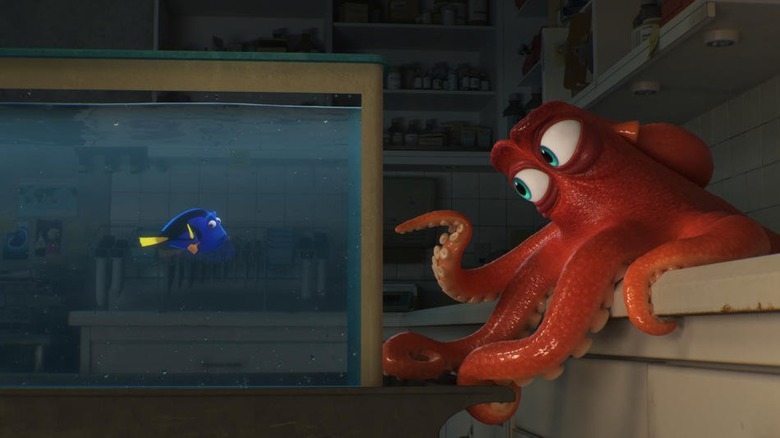 Note: We originally ran Peter's Finding Dory review on June 10. We're re-running it now that the film is in theaters.
Finding Dory is an example of why we should never underestimate Pixar. Did we need a sequel to Finding Nemo? No. This film is unnecessary... yet somehow Finding Dory is a fun, rewarding emotional journey. Join me after the jump for a virtually spoiler-free reaction to Pixar's latest film.
While the film may be titled Finding Dory, the story is centered around Dory's adventure to return to her long lost home and reconnect with her parents who she got separated from as a child.  Yes, Marlin and Nemo are on the search for Dory, but its Dory's story which serves as the main narrative.
Writer/director Andrew Stanton and co-director Angus MacLane smartly tapped into an aspect of Dory's character that may have been invisible to most of us. Afraid that people will get annoyed or aggravated by her inherent flaw (her short term memory), Dory's cheerful and helpful personality is partially a mask, to help keep from being abandoned (again).  And through this adventure across the ocean, Dory must find and accept herself. Like any great Pixar film, Finding Dory will physically jerk tears out of your eyes, seconds later making you laugh out loud while in admiration of its cleverness.
They've found ways to organically include appearances from a lot of the major characters from the first film (although some just didn't fit story-wise) but kids (and adults alike) will leave the movie infatuated with the newest characters introduced in this adventure. And I'm sure that was part of the plan as I can only imagine the merchandising sales that will result from this film. My favorite new characters are definitely the trio of sea lions, played by Idris Elba, Dominic West and Torbin Xan Bullock, who had me laughing out loud more than a few times. Ed O'Neill's octopus character Hank is also a great addition to the crew.
So how does it compare against its predecessor? In its best moments, Dory is more emotional and funnier than its predecessor. The movie feels more of a result of Pixar 2.0, somehow a more complex and layered adventure.
But overall, I believe Finding Nemo is the better film, for a couple reasons: the thrust of Marlin's journey to find his lost son is something most people can relate to, while Dory's journey to discover her lost parents is not as powerful narratively. While the cartoonish design of the characters remain true to the original, the ocean looks to be more beautiful and complex (there is a sequence in the kelp forest which is particularly stunning), making me wish we had more time under the sea. A surprising amount of this movie takes place on land. But my biggest issue with this film is that once the story reaches its logical and emotional conclusion, it doesn't end. The story continues for another twenty or so minutes and the tone of the film changes drastically from dramatic and heartwarming to wacky.
If you're looking for a reason to return to the multiplex since Captain America: Civil War, this is it. Finding Dory is a great sequel to a beloved classic in a Summer of sequels that have mostly disappointed. It should also be mentioned that Alan Barillaro's short film Piper plays before this film in theaters and is the best Pixar animated film in a decade: adorable, almost-photo real, and almost impossible not to love.
/Film Rating: 8 out of 10
P.S. Stay through the end credits for a fun surprise. Remember, Marvel didn't invent the after credits scene. It's something that even the original Finding Nemo had.