'Battlestar Galactica' Movie Gets 'Westworld' Screenwriter, Wants Francis Lawrence To Direct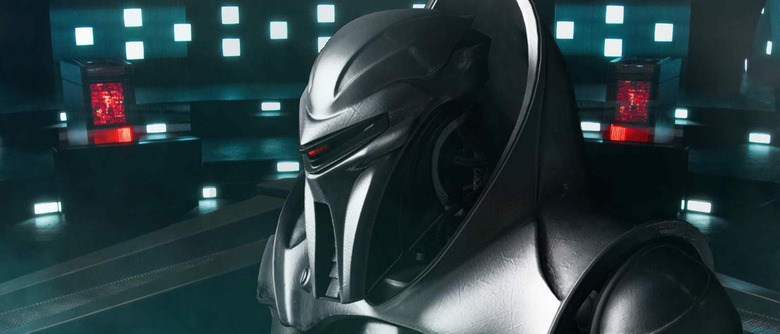 A Battlestar Galactica movie has been in on-again, off-again development for years, and a few months ago we heard Universal still wasn't ready to give up. We'll see whether this latest incarnation of the project gets any further than the earlier ones did, but as of this week it is one step closer to liftoff. Westworld scribe Lisa Joy has just been set to pen the adaptation, and word is the studio is trying to get The Hunger Games' Francis Lawrence on board to direct. 
Variety reported on the new Battlestar Galactica movie writer. While Joy gets going on the screenplay, the studio is in early discussions with Francis to direct. Bluegrass Films' Scott Stuber and Dylan Clark are producing movie along with Michael De Luca. Naturally, the studio is hoping the new Battlestar Galactica movie will launch a "massive event franchise."
Battlestar Galactica chronicles the aftermath of a massive attack by the Cylons (a cybernetic race) on the Twelve Colonies (where people live). Nearly all of the human species has been wiped out, but a few survivors remain including those aboard a military spaceship called the Battlestar Galactica. The crew set out in search of a fabled colony called Earth.
The Battlestar Galactica property started out as an ABC series in 1978. The show was cancelled after one season, reworked as Galactica 1980, and then promptly cancelled again. More attempts to resurrect the franchise followed. Then in 2003, Sci-Fi Channel (now Syfy) successfully rebooted Battlestar Galactica as a miniseries, which eventually became a full-fledged TV show.
That show lasted four seasons, wrapping up in 2009 with a predictably controversial finale. During its run, Battlestar Galactica attracted a devoted fandom and earned strong praise from critics for its gritty, realistic, and very timely depiction of war and occupation. Two spinoff series followed (Caprica and Blood & Chrome), but neither was able to replicate the success of the earlier series.
Efforts to make a Battlestar Galactica movie have been going on pretty much since the show ended. Bryan Singer was originally attached to direct, but dropped out some time ago. John Orloff and Jack Paglen are among those who've tried cracking the script.
Joy has worked on HBO's Westworld (which the network promises will finally air later this year) and USA's Burn Notice. She's also penned episodes of ABC's Pushing Daisies.
Lawrence directed the last three of the four Hunger Games movies. Since the franchise wrapped up with Mockingjay – Part 2, Lawrence has been contemplating a few different projects since then, including an adaptation of Homer's Odyssey, the spy drama Red Sparrow, and a TV adaptation of Neil Gaiman's Neverwhere. However, he's yet to announce what his next movie will be. If Universal's lucky, maybe it'll be Battlestar Galactica.