VOTD: Terrifying 'The Conjuring 2' Prank Scares The Hell Out Of Some Brazilians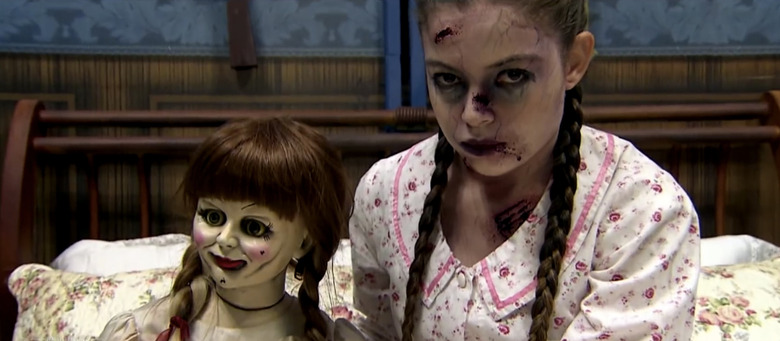 This weekend brings The Conjuring 2, the latest horror flick from director James Wan, to theaters everywhere. It's got some good scares and it just might be even more suspenseful and terrifying than the first film, which is saying something. In addition to the spooks provided by his horror sequel, James Wan teamed up with the Brazilian hidden camera prank show Câmera Escondida to pull of a stunt inspired by several scenes The Conjuring 2. Plus, there's a cameo by a familiar, creepy doll.
Watch The Conjuring 2 prank after the jump.
Watching people get scared is almost as fun as being scared yourself by a good horror movie. Assuming that this is all real prank stuff (it's pretty convincing), I'd be fascinated to learn how they vet these individuals so the show doesn't inadvertently give someone a heart attack. Or maybe their insurance is just really good.
This particular prank basically throws a few different scenes from The Conjuring 2 into one horrifying scenario. The spinning crosses, the ghastly nun demon and moving furniture make for one terrifying scene. I'm really not sure what I would do if I encountered a situation like this. Having seen pranks like this unfold now, I would hope that I would be smart enough to realize this kind of scene is a prank. But these scenarios are set up so innocuously that I would probably be fooled like these poor schmucks.
Anyway, The Conjuring 2 is in theaters now, and it's definitely worth a trip to the theater. Hat tip to Movies.com for bringing this video to our attention.