'Alien: Covenant' Rumor: Who Is Katherine Waterston's Daniels?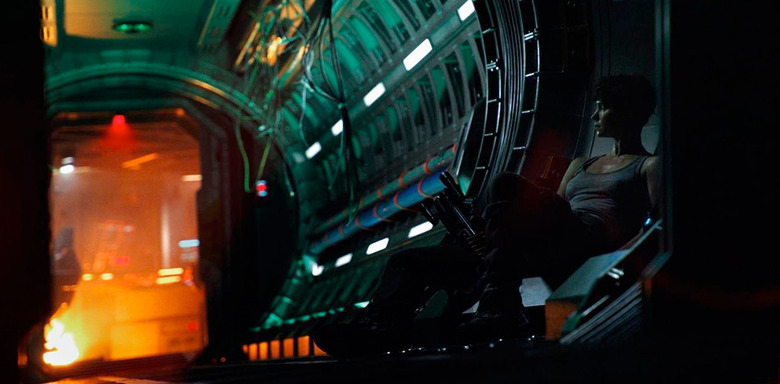 So far we've heard a lot about the Alien: Covenant cast — which includes Katherine Waterston, Billy Crudup, Danny McBride, Demián Bichir, and Jussie Smollett – but not a lot about the characters they'll be playing. We know Michael Fassbender will reprise his role from Prometheus as "synthetic" David, of course, and that at least some of his new co-stars will be playing members of the colony ship Covenant. Beyond that, details have been zipped up tight.
But that hasn't stopped rumors from leaking out, and the latest one might be the juiciest yet. A new report claims to have intel on "Daniels," the character Waterston is playing in the movie, and if true it puts the film in an interesting position. Click through for the Alien Covenant Katherine Waterston rumor (but be warned that SPOILERS might be ahead). 
The Playlist has the dirt. They tend to be pretty trustworthy, but even so you may want to take this with a grain of salt. None of these details have been confirmed by anyone official. Oh, and here's your last warning that SPOILERS could be ahead. If you'd rather be surprised, click away now.
Okay, ready? Here's what The Playlist says about the Alien Covenant Katherine Waterston character:
Sources close to film and actress tell us the Waterston will be playing Ellen Ripley's mother in "Alien: Covenant," which is an amazing twist and true to Ridley Scott's promise that the post-"Prometheus" prequels will eventually lead right up to the first "Alien" movie. It should be noted however that Waterston isn't the lead of the movie, and it's an ensemble piece like "Prometheus."
Waterston's character Daniels was first revealed in a photo from the Alien: Covenant set last month (which you can see in the header). At the time, we commented on the strong "Ellen Ripley vibe" she was giving off. Now it seems that similarity is not only deliberate, but significant. Time will tell whether Daniels is as cool and badass as her daughter, but it's not hard to see where Ripley gets her toughness. There's probably an argument to be made that connections like these make a fictional universe feel small, but it's still an exciting twist.
Originally, Ridley Scott had planned to take his time connecting the Prometheus and Alien films. At some point, however, he decided to reposition his Prometheus sequel as an Alien movie, with a new title and everything. Introducing Ellen Ripley's mom would certainly link Alien: Covenant more closely to the earlier Alien films. Though we should point out that even if the rumor is true, it's unclear how relevant it'll be — whether it'll be a minor Easter egg, or a major plot point.
Alien: Covenant opens August 4, 2017.
Ridley Scott returns to the universe he created in ALIEN with ALIEN: COVENANT, the second chapter in a prequel trilogy that began with PROMETHEUS — and connects directly to Scott's 1979 seminal work of science fiction. Bound for a remote planet on the far side of the galaxy, the crew of the colony ship Covenant discovers what they think is an uncharted paradise, but is actually a dark, dangerous world — whose sole inhabitant is the "synthetic" David (Michael Fassbender), survivor of the doomed Prometheus expedition.