Michael Mann's 'Ali' Returning To Theaters This Weekend In Honor Of The GOAT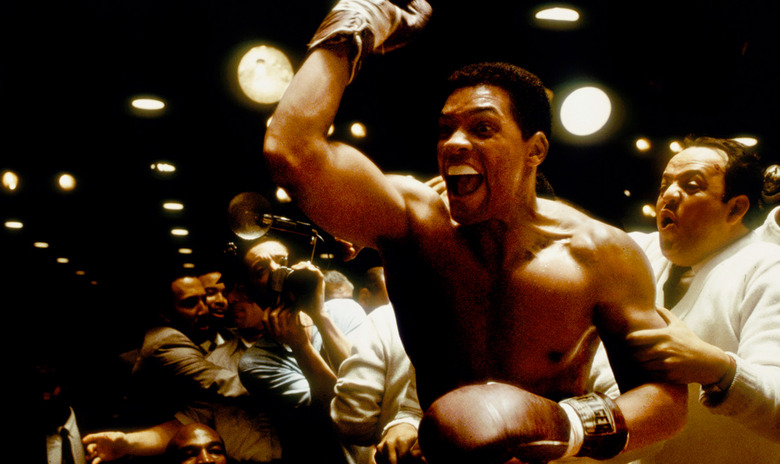 Last weekend brought the tragic news that legendary boxer Muhammad Ali had passed away at 74 years old. Recognized as the greatest of all time – praise the boxer claimed himself early in his career – Ali was not only an iconic athlete but an activist for civil rights, fighting against racism and prejudice. Now Michael Mann's 2001 biopic starring Will Smith as the boxer formerly known as Cassius Clay is returning to theaters in honor of the boxer's life. Find out more about Ali back in theaters after the jump.
Sony Pictures will send Ali back to a few hundred locations around the country this weekend. Rory Bruer, president of Worldwide Distribution for Sony Pictures, said:
With the passing of Muhammad Ali, we have received many requests for this film to return to theaters, in celebration of his life. The film truly honors everything that made Ali one of the central figures of our time, a man who commanded his sport but whose personal faith and principles made him mean so much more. Muhammad Ali truly was The Greatest, and this tribute is a great way to honor him.
This has become a recent tradition after the passing of icons who have graced the big screen. Following the death of Prince, Purple Rain was brought back to theaters for a limited engagement so fans could celebrate the musician's life. While events like this feel a little opportunistic, there's clearly a demand from fans for some kind of respect to be paid in this manner.
Here's the trailer for the 2001 awards contender Ali, directed by Michael Mann:
If you haven't seen Ali, here's the official synopsis:
Muhammad Ali (Will Smith) thrilled the world with his ground-breaking boxing victories in the '60s and '70s. But the man behind the legend is grappling with a tumultuous romantic life, his deeply held religious beliefs and the pressures ofstaying on top. A quick-witted, winning personality and strong friendships with close associates, including renowned newscaster Howard Cosell (Golden Globe nominee Jon Voight), help Ali "float like a butterfly and sting like a bee." But faced with a life-changing conflict outside of the ring, the famously opinionated boxer is forced to rely on the one person he knows the best: himself.
The rest of the cast includes Jamie Foxx, Jon Voight, Mario Van Peebles, Ron Silver, Jeffrey Wright, Mykelti Williamson, Jada Pinkett Smith, Nona Gaye, Michael Michele, Joe Morton, Bruce McGill, Barry Shabaka Henley, Giancarlo Esposito, Laurence Mason and Ted Levine.
Will Smith earned an Oscar nomination for Best Actor along with Jon Voight for Best Supporting Actor, and this movie is worth seeing for those performances alone. It's been years since I've taken the time to watch it, but I remember it being a very raw presentation of Ali's life, and Will Smith knocking the role out of the park.
Unfortunately, as of now, there is no theater list available as to where you can catch Ali on the big screen again, so you'll just have to check your local listings to see where you can catch it. If a theater list becomes available, we'll be sure to post it.