'Stranger Things' Trailer: Netflix Takes A Pinch Of Amblin And A Cup Of Stephen King...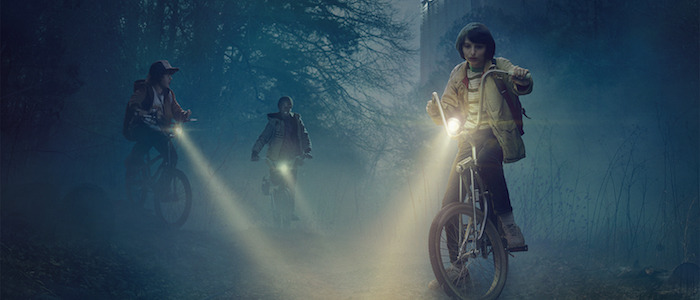 Netflix is producing so many original shows these days that it's often hard to keep up, with much of their original programming falling through the cracks in the crowded television landscape. Sure, you may say you'll eventually get around to watching Marco Polo or Bloodline, but let's face it – no one on planet Earth has actually watched Marco Polo or Bloodline. I kid because I love. And because Netflix is richer than most small nations.
Then something like Stranger Things appears on the horizon and you realize "Oh, here's a Netflix original series that I think I will actually get around to watching!" Only time will tell if this new show can match the success of House of Cards and Orange is the New Black, but the first trailer leaves a strong impression, offering shades of Steven Spielberg and Stephen King and all of those adventurous genre films from the '80s that somehow got away with PG ratings because the PG-13 hadn't been invented yet.
Like so many of the films the series is undoubtedly recalling, Stranger Things takes place in a small town in 1980s America and something has gone wrong. A kid has gone missing. A conspiracy is afoot. Supernatural occurrences are beginning to spring up and the adults (led by Winona Ryder and Matthew Modine) are baffled by it all. You know what that means: only a trio of boys (and a seemingly psychic girl) can get to the bottom of what certainly looks like a government conspiracy. Lots of bicycle riding through the woods ensues.
The promo art for the series doubles down on that throwback tone, showcasing a design that feels like it was torn from a horror paperback published in 1984, complete with a title treatment that somehow recalls every creepy book you read when you were younger. Stranger Things is far from the first attempt to recapture this specific tone, but this looks like a more low-key approach than the likes of Super 8. The show looks proudly nostalgic, but not reliant on nostalgia. Then again, this will all come down to execution.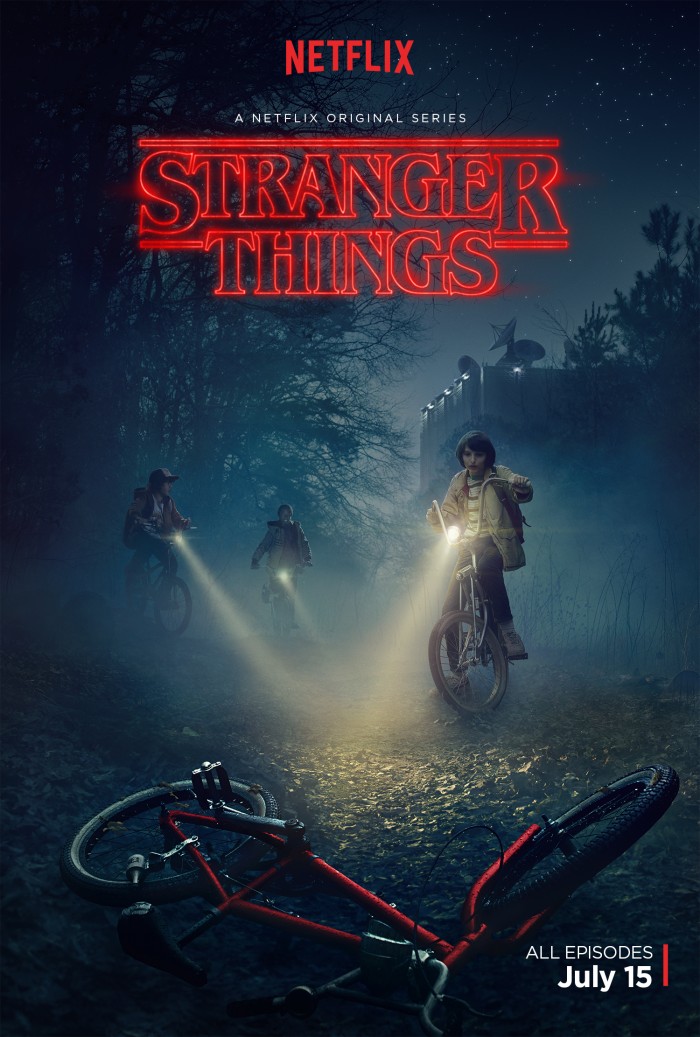 Here's the official synopsis for the series:
Set in Hawkins Indiana in the 1980's, Stranger Things chronicles the search for a young boy who vanishes into thin air under highly suspicious circumstances. His mother (Winona Ryder) opens an investigation into the boy's disappearance with local authorities that unravels a series of mysteries involving top-secret government experiments, terrifying supernatural forces and one very strange little girl. A love letter to the ubiquitous cult classics of the 80's, Stranger Things is a coming of age story for three boys that draws this quaint community into a world where mysteries lurk beneath the surface.
The first season of Stranger Things drops on Netflix on July 15, 2016.