Bill Murray Praises 'Ghostbusters' Reboot As Old And New Casts Unite On 'Jimmy Kimmel Live'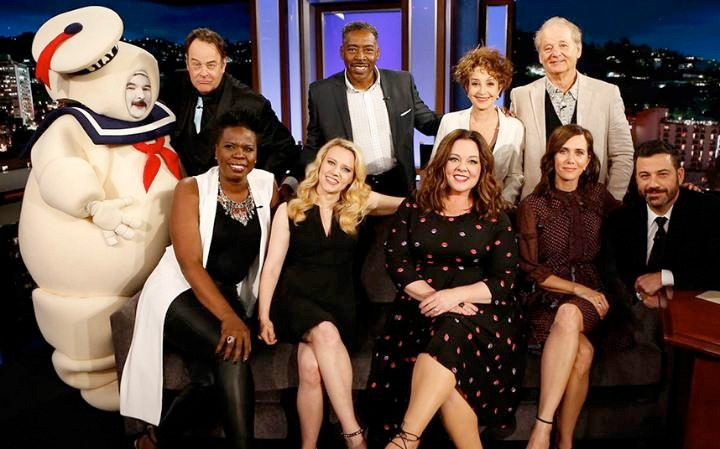 Yesterday was Ghostbusters Day, and to celebrate the casts of both the 1984 classic and this year's reboot came together on Jimmy Kimmel Live.
For some reason, the posting of the videos on YouTube pretend the arrival of the original Ghostbusters cast during an interview with the new Ghostbusters cast was some kind of surprise, even though we found out about it in advance. Anyway, the two casts get together to talk about the reboot and the legacy of the original Ghostbusters.
Plus, Bill Murray throws his full support behind the reboot and explains why he finally chose this project to come back to the Ghostbusters franchise. If you think that's just because he's shilling for the studio, he actually gives some very honest thoughts about the film that might quell some of the fears of naysayers out there.
Watch the highlights from the Ghostbusters Jimmy Kimmel Live episode below.
First up, I'm not sure why this video is labeled to have the cast talking about filming in secrecy, because it's mostly about whether or not they feel like Ghostbusters, and when it felt real to them. And about how Kate McKinnon is not a good driver, and she had to be behind the wheel of the Ecto-1. Also, if you want to hear more of the new Ghostbusters theme song by Fall Out Boy, the section of rap by Missy Elliott is included in the clip.
Here's where the old Ghostbusters cast comes into the studio, with the theme song appropriately playing for their entrance. At first Bill Murray does not look happy to be there at all, but that changes pretty quickly. And you might be pretty surprised as to what he has to say about the Ghostbusters reboot.
The old and new Ghostbusters cast sat down for a chat with Jimmy Kimmel, and during the interview, Bill Murray was asked why he chose the reboot to make his return to Ghostbusters. He gives quite the vote of confidence in the ladies leading the movie, and sings its praises in a very honest way:
It was only because I knew these girls were funny. When you see the film, and you'll delight in the film, it sort of rumbles along in the beginning. And you go 'Oh God, are they gonna be able to pull this off?' Believe me, I feel like a stepfather to the whole thing. But there is just no quit in these girls...
This is a tough movie to pull off, because it's a big concept, there's a lot on the plate, there's a lot of expectation. And Danny [Aykroyd] and I and Annie [Potts] and Ernie [Hudson] were just screaming, cheering like we were at a sporting event at the end of it.
That's some high praise, and it comes from the guy that Ghostbusters fans probably respect the most. And what I appreciate about this statement is that he points out that the movie feels a little shaky at first, but comes into its own. Here's hoping that he convinces some of the fans who aren't too keen on this reboot to give it a shot.
Finally, if you need a little joy in your life today, here's both of the Ghostbusters casts dancing to Ray Parker Jr.'s theme song, performed live in the studio. Pay close attention to Bill Murray, who is clearly having the time of his life. It would be great to have a dance party with Bill Murray.
If you want to see more from last night's special Ghostbusters episode of Jimmy Kimmel Live, there are some more videos with the original cast talking about how they completed some shots without having a permit to shoot in New York City as well as the origins of the Stay Puft marshmallow man.
Ghostbusters arrives on July 15.