Star Wars Bits: 'Episode 8' Nears The End Of Filming, 'The Force Awakens' Finally Leaves Theaters, And The Future Of 'Star Wars' Video Games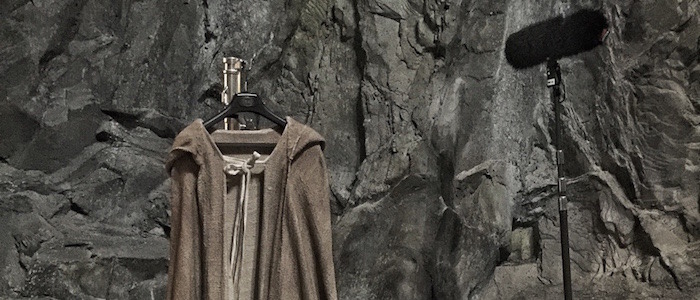 In today's edition of Star Wars Bits:
Rian Johnson is "in the home stretch" of Star Wars: Episode 8.
Star Wars: The Force Awakens officially leaves theaters.
Author Timothy Zahn discusses the new canon.
An impressive LEGO recreation of The Finalizer's TIE Fighter hangar.
Footage from the Star Wars land construction site.
LEGO Star Wars: The Force Awakens teases Jabba the Hutt.
Updates on upcoming Star Wars video games.
A coffee table shaped like a familiar ice cave...
And more!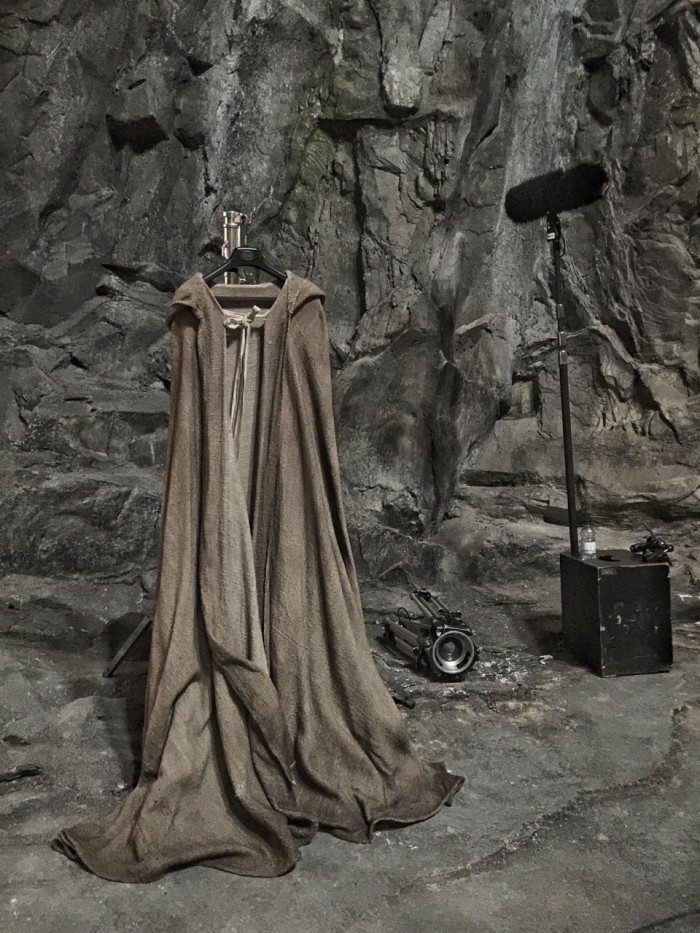 We've yet to see any official photos from the set of Star Wars: Episode 8, but director Rian Johnson has shared a few candid shots on his Tumblr page to mark a few important occasions. He recently shared the above photo, which looks an awful lot like a cloak a Jedi Knight would wear, along with the caption "In the home stretch." We can safely assume that means principal photography is nearing an end and that everyone involved will get a much-needed break...for five minutes, because they then have to power through 18 months of post-production. Anyway, if Episode 8 follows the pattern of The Force Awakens, we should learn the proper title of this movie soon after the cameras are done rolling.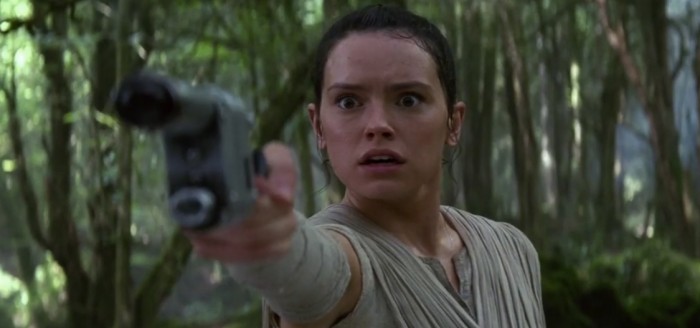 After 168 days in release (and despite being on Blu-ray and DVD for the past two months), Star Wars: The Force Awakens has officially ended its theatrical run, exiting the handful of theaters it was still playing in. Its final domestic gross: $936,662,225. Its final international gross: $2,068,176,052. That puts it head and shoulders above all the record-breakers in domestic market, but it really never had a chance of topping Avatar's international numbers. Still, it's hard to imagine anyone thinking that these numbers are remotely disappointing. Lucasfilm and Disney wanted to ensure that The Force Awakens was a phenomenon and they succeeded.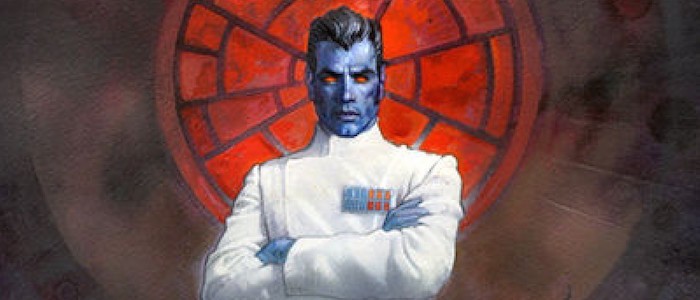 Timothy Zahn, best known to Star Wars fans as the author of the beloved Thrawn trilogy, attended AwesomeCon in Washington D.C. and Star Wars News Net was present for his panel. Although he does briefly touch on his contributions to the overall Star Wars canon and express hope that some of his characters will ultimately make it to the new movies and shows, his longest and most interesting response involves him grappling with, and accepting, Lucasfilm during the expanded universe:
They have made it very difficult to legitimately sell the books. At this point, it's all free money to them so they won't be doing that. The second thing they could have done is go through the entire expanded universe and selectively declare what is and is not canon, but to do that, they would need to know exactly what they want to do with Star Wars for the next 30 years.
I think about it kind of like the legend of Robin Hood. We tell stories even now about Robin Hood, or King Arthur and the Knights of the Round Table. They aren't real, but it's still fun to read. Imagine someone finds a letter under Stonehenge from Prince John to the Sheriff of Nottingham, saying "I've had it with this Robin Hood, he's making a mockery of my Kingdom, and I want his head on a pike now!" Suddenly it goes from a Legend to factual history. That is what they have done by calling all of the expanded universe legends.
They are saying we can make any of this back into canon at any time. So the best of their options is set up. Bear in mind they have people like Pablo Hidalgo, Dave Filoni, and Kathleen Kennedy who have an extreme love for the Star Wars Universe. These people are not people who will go and demolish Star Wars. If they have to destroy part of the expanded universe, it will be because it's not in line with what they want to do.
In a way its kind of sad that they call it "Legends," and it's not real anymore, but it was never really real in the first place. I think that the expanded universe, and Star Wars are in good hands.
Also bear in mind, that JJ Abrams, and Kathleen Kennedy, will not break into your house and take your books.
With Star Wars Rebels reportedly set to feature Grand Admiral Thrawn in the upcoming season, Zahn should have a reason to celebrate soon. For much more, make sure you hit the link above.
LEGO builder LegoSpencer has built a detailed recreation of the TIE Fighter hangar seen in the First Order Star Destroyer The Finalizer, which you may remember as the site of Poe Dameron and Finn's daring escape during the first act of Star Wars: The Force Awakens. It's an impressive build, utilizing four separate TIE Fighter models, a whole bunch of Stormtrooper minifigs, and some very clever construction. You can watch the video above for an overview of the whole build, but if you want more, his Flickr page is full of detail shots.
For the Star Wars fan who has everything (and I mean everything), here's a coffee table shaped like the Wampa cave on Hoth, complete with Luke Skywalker's lightsaber. This is the work of Tom Spina Designs, who described the project thusly:
Our client's favorite movie (like so many Star Wars fans) was the Empire Strikes Back and he wanted a custom coffee table that would bring the film to life for his home theater. We turned to one of our favorite scenes and frozen locations for inspiration. We created the custom coffee table from hand carved foam. The foam was shaped with heated tools and rasps to create the organic snow shapes. The coffee table features snow stalagmites which were flattened on top to support the glass table top. The prop is painted in a mix of white and blueish tones to give a frozen feel. The base of the snowy coffee table features a removable Luke Skywalker lightsaber prop (one of the licensed FX saber models, very cool!).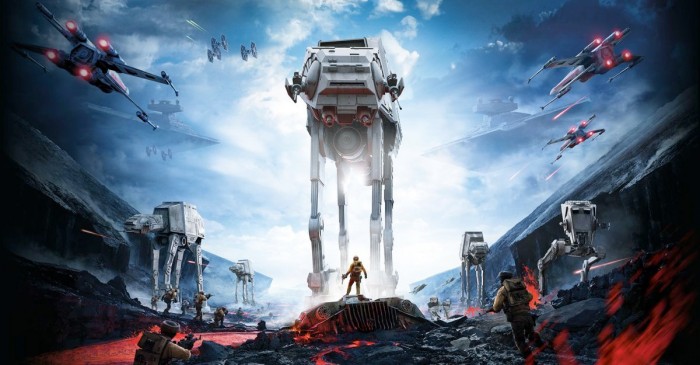 It's a good time to be a fan of Star Wars video games. Star Wars: Battlefront was well-received last year and a sequel is already in development, LEGO Star Wars: The Force Awakens is just around the corner, and two additional secret projects being created by Motive Studios and Visceral are coming along. EA's Jade Raymond, who oversees Visceral and Motive, recently offered an update on both the development of both games. First up is Motive:
Motive Studios is now 65 industry veterans strong, adding more each week, and driven by unbridled creativity to make unforgettable action games. We are well on our way, beginning our journey with a Star Wars game, and exploring ideas for our original IP. It's really quite amazing to be a part of, and I can't wait to be able to share more details about Motive's projects.
She also touched on Visceral's game, which has been in the works for a long time under the supervision of Uncharted veteran Amy Hennig. Although the details remain under wraps, it has long been rumored that this game will focus on a younger Han Solo. With E3 only days away, maybe we'll hear something official soon? Anyway, here's Raymond:
Meanwhile, the team at Visceral Games is forging ahead into an exciting phase of development. Seeing Amy Hennig lead this team through the creative process has been incredible. She is a rare breed of storyteller, and she's collaborating with the creative leaders at Lucasfilm to tell a new, authentic Star Wars story. Backed by the talented Visceral team, Amy and studio GM Scott Probst are taking this project in groundbreaking directions.
Raymond also announced that she's looking to hire more people to work on these games:
But first, if you're interested in joining us, let's talk! Two great studios, and a lot of great opportunities from the Motive team in Montreal to Visceral Games in Redwood Shores.  We are looking for passionate developers in all areas who want to help create EA's next great Star Wars games. Visit our Careers website for more information. We'd love to hear from you.
If that sounds like you, you can follow this link.
One of the weird joys of the LEGO video games is being able to play through familiar stories and scenes as characters who literally have no reason to be there. Jabba the Hutt and most of his cohorts have been dead for thirty years when The Force Awakens begins, but LEGO Star Wars: The Force Awakens will let you slip into the shoes (uh, tail?) the galaxy's most infamous gangster. It doesn't make sense, but the LEGO games have always been more about creating a fun sandbox than telling a coherent story that follows the rules of a given universe. If playing as Jabba is important to you in the slightest, you can receive the Jabba's Palace character pack be pre-orderings a copy at Gamestop.
The always funny Will Arnett appears on Conan, where he was asked if there were any major movie franchises he'd love to join. And yes, the Arrested Development and LEGO Movie star wouldn't mind entering the Star Wars universe. In fact, he wants to play a droid. From Canarsie. Who has a job selling trucks. You can watch the whole thing, including Arnett's extended riffing on what this droid would talk like, in the video above.
Universal Core has captured new video of the Star Wars land construction at Disneyland and right now, the whole area is really just a big pile of earth, complete with heavy machinery working overtime to move a bunch of dirt around. It may not feel like much at the moment, but this is the kind of document that will feel valuable in a few years when this area nears completion and we'll being saying things like "Wow, remember when this whole themed landscape was a just a big wasteland occupied by guys in hardhats?" Also, the footage from on top of the nearby parking structure provides an excellent look at just how large this area will be and how it will slide into this famously contained theme park.
Star Wars Explained (formerly Star Wars Minute) has dedicated a recent episode to exploring just how many characters knew the actual identity of Darth Vader outside of Emperor Palpatine, Yoda, and Obi-Wan Kenobi. It's a very short list, especially since the video is dealing directly with the new canon and not the old expanded universe/legends. Interestingly, a few of these characters are relatively recent creations, including two who were first introduced in the pages of Marvel's excellent Darth Vader comic book series.
The latest episode of The Star Wars Show has arrived and this week's guest is Finding Dory co-director Angus McLane, who shares how the original movies inspired him. You can never accuse of Disney of not being on top of the whole corporate synergy thing.