'Batman: The Killing Joke' Adds 300 More Screens To One Night Theatrical Event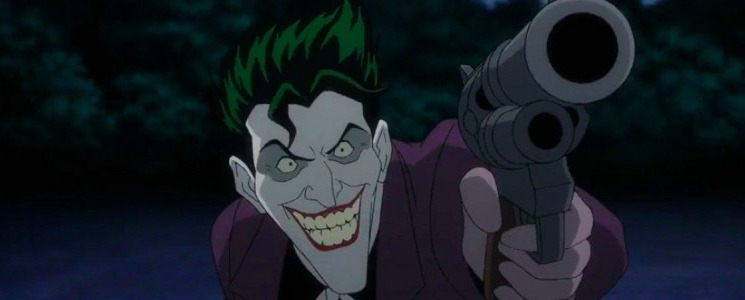 UPDATE: Due to overwhelming demand and sold out theaters across the country, the one night only theatrical debut of Batman: The Killing Joke now has an additional 300 screens playing the animated adaptation of the iconic comic book storyline. Fathom Events now has over 1,000 screens playing the film's debut on Monday, July 25. You can find out which theaters are participating in the screening and buy tickets over at Fathom Events right now.
Our original post from June 8, 2016 follows below.
Late last year, we heard that an R-rated animated adaptation of Alan Moore and artist Brian Bolland's 1988 The Killing Joke was in the works, which almost sounded too good to be true. A month and a half ago the story was confirmed: This interpretation of Moore's classic comic book is indeed rated R.
Directed by Sam Liu (co-director of Batman: Year One), Batman: The Killing Joke will be released on Blu-ray this August, but a few days prior you may have the opportunity to see it in a select theater. Below, learn more about The Killing Joke theatrical release.
For one night only, Batman: The Killing Joke will play in select theaters on Monday, July 25th, at 7:30 p.m. and 10:00 p.m., thanks to Warner Bros. and Fathom Events. Tickets will be available starting next Thursday, and they can be purchased at Fathom Events' official website. To sweeten the deal, Mark Hamill, once again voicing the Joker, will provide a video introduction, in addition to showing a documentary about how he got cast as Batman's iconic villain.
Here's a part of the press release:
"Fathom Events is thrilled to be able to bring 'Batman: The Killing Joke' to movie theaters across the country so fans can see it on the big screen," Fathom Events Vice President of Studio Relations Tom Lucas said. "Warner Bros. Home Entertainment, Warner Bros. Animation and DC Entertainment have created an amazing production based on a beloved graphic novel, and we're honored to be a part of this release."
"Fans have been clamoring for a theatrical release of the popular DC Universe Original Movies, and the highly anticipated 'Batman: The Killing Joke' presented a perfect opportunity to work with Fathom Events to bring the fans' wishes to fruition for this special, limited release," said Mary Ellen Thomas, Warner Bros. Home Entertainment Vice President, Family & Animation Marketing.
A week after this event, DC fans will see Jared Leto's version of the Joker in Suicide Squad, but if you want to check out one of the most memorable, disturbing, and human versions of the character in a theater, then you may not want to miss out on seeing Batman: The Killing Joke in theaters...or you could just wait another week and watch it at home.
The comic book adaptation will be available on DVD and Blu-Ray on August 2nd. In addition to Hamill, Kevin Conroy voices Batman again, Tara Strong plays Barbara Gordon/Batgirl, and Ray Wise will voice Commissioner Gordon, a character that the Joker puts through the wringer in this story.