'Ghostbusters' Featurettes Introduce Us To All Four Leading Ladies And Tons Of New Footage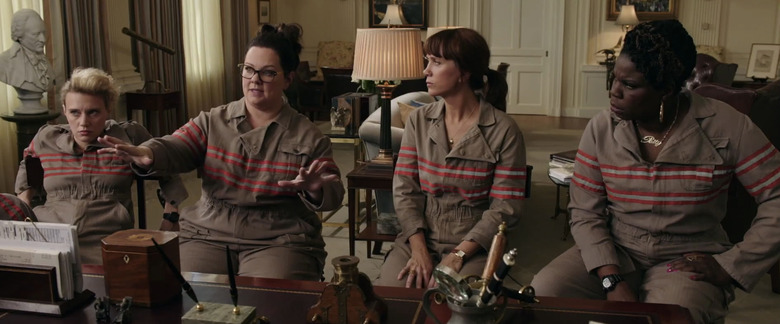 Hot on the heels of the new wheels shown off this morning in a featurette focused on the new Ecto-1, the Ghostbusters reboot has delivered a batch of new featurettes that introduce each of the characters played by Melissa McCarthy, Kristen Wiig, Kate McKinnon and Leslie Jones. Along with new details provided by the talking head interviews with each actress, as well as director Paul Feig, we get a bunch of new footage that gives us first looks at characters played by Charles Dance, Ed Begley Jr., and Chris Gethard.
Watch the Ghostbusters character featurettes after the jump.
Here's all four of the featurettes released by Sony Pictures today:
Abby Yates (Melissa McCarthy) – Smart but always mocked for both her intelligence and belief in ghosts, we find her working on her own. But that changes when she publishes a book about ghosts that she worked on with her friend Erin Gilbert (Kristen Wiig), who she hasn't seen in some time. Speaking of which...
Erin Gilbert (Kristen Wiig) – Working as a professor at a university, Erin Gilbert has her life thrown into upheaval as the unapproved publishing of the book she wrote with Abby Yates has turned her into a joke in the educational world. It doesn't help that video footage of a chance ghost encounter, which shows Gilbert admitting that ghosts are real, has made its way into the hands of her school's dean, resulting in her getting fired. But that leaves her free to pursuit some ghost busting.
Jillian Holtzmann (Kate McKinnon) – The genius nuclear engineer behind all the new gadgets and gear that the Ghostbusters will be using, she's easily the quirkiest of the group, but she's also brilliant. McKinnon says this character is the most like herself in real life, so that should be fun to see play out in the movie.
Patty Tolan (Leslie Jones) – Having read countless books on the history of the city of New York, not to mention working for MTA, Patty knows all the things that her scientists counterparts aren't too aware of. She ends up coming to the Ghostbusters after an encounter with a ghost in the subway tunnel, and just joins the team.
As for the footage on display in these featurettes, there's some great stuff here, like Chris Gethard getting punched in the face by Kristen Wiig and that whole exchange referencing Ghost and a slew of other Patrick Swayze movies. Even though not all the footage brings the laughs (some of the jokes don't land well still), I think we just have to accept with this reboot is that the comedic style will not be exactly the same as the original. That doesn't mean it will be broad the whole way through, but it just won't be as dry. Honestly it seems like it will be an all right flick. Not amazing, but not straight up awful either.
Ghostbusters makes its long-awaited return, rebooted with a cast of hilarious new characters. Thirty years after the beloved original franchise took the world by storm, director Paul Feig brings his fresh take to the supernatural comedy, joined by some of the funniest actors working today – Melissa McCarthy, Kristen Wiig, Kate McKinnon, Leslie Jones, and Chris Hemsworth. This summer, they're here to save the world! The film is produced by Ivan Reitman and Amy Pascal, and written by Katie Dippold & Paul Feig, based on the 1984 film "Ghostbusters," written by Dan Aykroyd and Harold Ramis and directed by Ivan Reitman.
Ghostbusters arrives July 15.