Cool Stuff: 'Star Trek' 50th Anniversary Blu-Ray Set Has Everything A Trekkie Would Want

We may receive a commission on purchases made from links.
This year marks the 50th anniversary of Star Trek: The Original Series, and while Paramount Pictures is already celebrating by releasing Star Trek Beyond in theaters later this summer, there's is much more good stuff in store for all you Trekkies out there who have loved the series for five decades and all the little Starfleet nerds you've created during those years as well.
Today, Paramount Pictures announced a Star Trek 50th anniversary Blu-ray set that is packed full of everything that a longtime Trekkie would want, including the original TV series, all the films featuring the original cast, and more. Get the full details on the set after the jump.
With over 30 Blu-ray discs counted in the set, here's what you'll get:
Star Trek: The Original Series Blu-ray
Star Trek: The Animated Series Blu-ray
Star Trek: The Motion Picture Blu-ray
Star Trek II: The Wrath of Khan Director's Cut Blu-ray
Star Trek III: The Search for Spock Blu-ray
Star Trek IV: The Voyage Home Blu-ray
Star Trek V: The Final Frontier Blu-ray
Star Trek VI: The Undiscovered Country Blu-ray
Star Trek: The Journey to the Silver Screen—New 50th Anniversary Multi-Part Documentary
Collectible 50th Anniversary Starfleet Insignia Pin
Collectible Mini-Posters for Movies 1-6
Over 20 hours of bonus content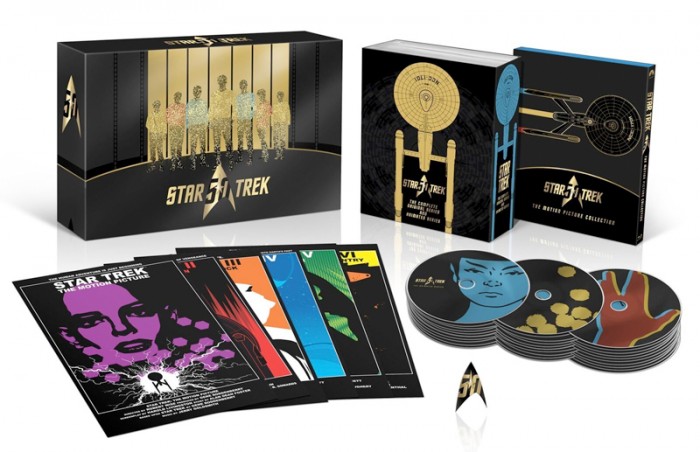 Notice that the copy of Wrath of Khan you'll get is the recently released Director's Cut that just hit shelves on June 7. That means it doesn't come with the theatrical cut, but if you're a hardcore Star Trek fan, then you probably already have that on Blu-ray anyway.
This is one hell of a set, featuring all the adventures of the original crew of the USS Enterprise. The original TV series, the animated series, and all the movies before Star Trek Generations are all there. But for my money, it's that multi-part documentary that's going to be the coolest thing to watch. Here are the segments that will be included in that documentary:
The New Frontier: Resurrecting Star Trek
Maiden Voyage: Making Star Trek: The Motion Picture
The Genesis Effect: Engineering The Wrath of Khan
The Dream is Alive: The Continuing Mission
End of an Era: Charting the Undiscovered Country
The Star Trek 50th anniversary Blu-Ray collection is slated to be released on September 6. However, no price has been revealed yet. But with all these discs, you're likely to pay a pretty penny for it.